Intelligrated Lifecycle Support Services Highlights Mechanical and Risk Assessments for Palletizers at PACK EXPO 2016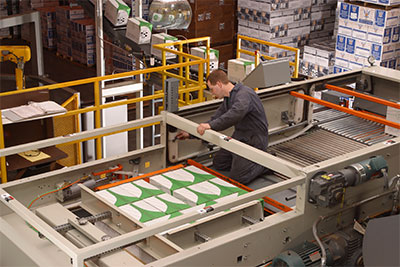 Assessments benchmark system efficiency and safety to maximize return on automation investments
(CHICAGO)—Operations depend on mission-critical automated systems to power through demanding peaks and new challenges, year after year. To keep automated material handling systems running at maximum efficiency, Intelligrated® offers mechanical and risk assessments for palletizers, case conveyor, sorters and pallet conveyor. Backed by OEM expertise, these assessments proactively ensure uptime and safety while maintaining – and often improving – system performance and longevity.
Mechanical assessments provide a foundation for effective lifecycle asset management. Knowledgeable Intelligrated assessors thoroughly inspect the equipment on-site and provide a detailed assessment report that evaluates their equipment against OEM specifications. The report outlines everything from parts in need of replacement to recommended modifications and upgrades. This approach maximizes the ongoing value from automation investments and can be utilized as an annual check prior to peak season to minimize unplanned downtime and ensure equipment is operating at full capacity.
"Today's material handling operations simply cannot afford the human and financial costs associated with safety incidents and unplanned outages," said John Sorensen, senior vice president and general manager, Lifecycle Support Services. "Intelligrated's full-scope assessment offering provides asset baseline and benchmark data, which is the key first step to successful lifecycle management."
To provide customers with a truly comprehensive offering, Intelligrated also offers certified risk assessments. Through a partnership with a third-party safety consultant, Intelligrated deploys TUV-certified engineers to evaluate equipment according to OSHA, ISO or site-specific safety compliance standards. Customers receive certified assessment reports with recommended upgrades to ensure workplace safety. These risk assessments provide an efficient solution for multi-site operations with similar systems throughout their network. Solutions derived from a single site's assessment can be applied across multiple locations for a cost-effective path to proactively manage risk.
As the OEM, Intelligrated is uniquely equipped with the product-specific knowledge and engineering expertise to provide modifications that satisfy safety needs while maintaining or improving system performance and usability.
Visit booth S-3666 at PACK EXPO to speak with representatives from Intelligrated Lifecycle Support Services about mechanical and risk assessments.
About Intelligrated
Intelligrated, now part of Honeywell, is a leading North American-based, single-source provider of intelligent automated material handling solutions that drive fulfillment productivity for retailers, manufacturers and logistics providers around the world. Through a broad portfolio of automation equipment, software, service and support, Intelligrated solutions give businesses a competitive edge and optimize operational performance through increased flexibility, efficiency and accuracy.
Intelligrated designs, manufactures, integrates and installs complete material handling automation solutions including conveyor, IntelliSort sortation, Alvey palletizers and robotics, and automated storage and retrieval systems – all managed by advanced machine controls and software. Intelligrated Software offers warehouse execution systems, a scalable suite of software that manages the entire fulfillment process, including equipment, labor and business intelligence, integrated with voice- and light-directed picking and putting technologies.
From concept to integration to lifecycle support services, Intelligrated delivers dependable, sustained distribution and fulfillment success, and maximum return on investment. Intelligrated backs every project with 24X7 multilingual technical support and access to lifecycle service through a network of national, regional and local service centers.
Company Contact
Tracy Niehaus, Marketing Manager
Tel: 513.881.5239
PR Contact
Dan Gauss
Tel: 919.797.2916