Intelligrated Highlights IntelliSort HDS Sortation System at ProMat Show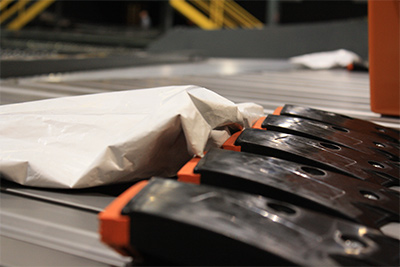 Innovative sortation solution enables faster, more cost-effective e-commerce delivery
(CHICAGO) — Intelligrated, a leading North American-based automated material handling solutions provider, announces the debut of the IntelliSort HDS, a high density parcel and e-commerce sortation solution at ProMat 2017 in Chicago. With an innovative dual-sided design, the new solution accommodates a high density of divert destinations in minimal floor space, an ideal solution for zone-skipping applications that pre-sort orders according to destination region prior to releasing them to last-mile carriers.
Built on industry-leading sliding shoe sorter technology, the IntelliSort HDS provides quiet, accurate, gentle sortation of a variety of product and packaging types – even polybags. As companies face dimensional weight pricing, reduced secondary packaging and other e-commerce pressures, the IntelliSort HDS sorter enables a competitive advantage by keeping shipping costs low while increasing speed of delivery.
The patent-pending solution takes the industry-leading durability and gentle handling concepts of the IntelliSort HS and translates them to a space-efficient solution for sortation operations with more than eight destinations. The sorter is capable of handling cartons, jiffy mailers and polybags with specially designed inductions and discharges. The positive sliding shoe sorting process uses patented flights and pushers to ensure precise diverts to the shipping destination. The result is a compact operation that can fit a high number of destinations in a small facility footprint, keeping investment low and operational efficiency high.
"Contemporary pressures on fulfillment operations squeeze them to deliver orders faster and more cost-effectively than ever before," says Chuck Adams, chief commercial officer and general manager. "Increases in shipping rates and challenges with delivery capacity have driven e-commerce retailers to find ways to manage costs. The addition of the IntelliSort HDS to Intelligrated's broad range of sortation solutions offers another option to reduce shippers' operating costs and increase speed of delivery."
About Intelligrated
Intelligrated, now part of Honeywell, is a leading North American-based, single-source provider of intelligent automated material handling solutions that drive fulfillment productivity for retailers, manufacturers and logistics providers around the world. Through a broad portfolio of automation equipment, software, service and support, Intelligrated solutions give businesses a competitive edge and optimize operational performance through increased flexibility, efficiency and accuracy.
Intelligrated designs, manufactures, integrates and installs complete material handling automation solutions including conveyor, IntelliSort® sortation, Alvey® palletizers and robotics, and automated storage and retrieval systems – all managed by advanced machine controls and software. Intelligrated Software offers warehouse execution systems, a scalable suite of software that manages the entire fulfillment process, including equipment, labor and business intelligence, integrated with voice- and light-directed picking and putting technologies.
From concept to integration to lifecycle support services, Intelligrated delivers dependable, sustained distribution and fulfillment success, and maximum return on investment. Intelligrated backs every project with 24X7 multilingual technical support and access to lifecycle service through a network of national, regional and local service centers.
Company Contact
Tracy Niehaus, Marketing Manager
Tel: 513.881.5239
PR Contact
Dan Gauss
Tel: 202.588.0393