Integro Technologies Named 2017 System Integrator of the Year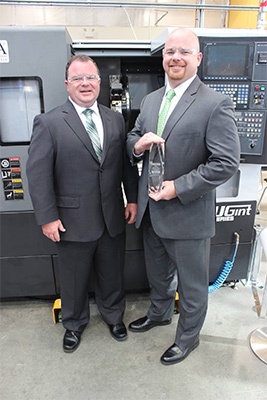 Salisbury, NC: Integro Technologies Corp., a leading machine vision integrator in Salisbury, North Carolina, has been named a 2017 System Integrator of the Year by Control Engineering and Plant Engineering magazines (CFE Media). The company is being recognized for its achievements in the areas of business acumen, client satisfaction, and technical expertise in the mid-sized system integration category.
"The 2017 System Integrator of the Year winners represent the best of exciting innovations happening every day in manufacturing," said Bob Vavra, content manager for CFE Media, representing Plant Engineering and Control Engineering, which have presented the System Integrator of the Year awards for more than a decade. "The work of Integro Technologies …[is] indicative of the groundbreaking integration projects that will help manufacturing become smarter, safer and more productive."
"This year's winners were chosen from a large field of outstanding entrants, which made the judges' decisions very challenging," Vavra added. "We are encouraged that the level of innovation and excellence shown throughout the system integration industry will serve manufacturers well. We encourage manufacturers to take advantage of these valuable industry experts as they look to expand and improve their operations."
"The 2017 System Integrator of the Year Award is a significant step in our company's continued development, and it is a testament to our team's sustained effort to continually provide world –class, innovative, turnkey machine vision solutions to our customers," said Shawn Campion, President and CEO of Integro Technologies.
"Since Integro Technologies' inception, we have strived to be the best machine vision integrator in the country," said Starke Farley, Senior Sales Engineer and Partner of Integro Technologies. "Being recognized as a top integrator in the industry is a huge honor. Integro Technologies will continue to build upon this milestone, and use it as a foundation to do even greater things."
"Integro truly believes that providing valuable service to our customers begins with creating an atmosphere where employees are genuinely happy and excited about where they work and what they do," said Thomas Campion, Founder and CFO of Integro Technologies. "Our customers experience the passion of our team whenever they visit our facility or interact with our team members in the field at their facilities. We have come a long way from humble beginnings and plan to continue striving for excellence for both our customers and employees."
This year, Integro Technologies has also been named a 2016 System Integrator Giant. Control Engineering and Plant Engineering present the top 100 System Integrator Giants for 2016, ranked according to total system integration revenue for the most recently completed fiscal year.
Learn more by visiting the Global System Integrator Report online.
About Integro Technologies
Integro Technologies is a leader in machine vision integration in North America. With over 2,000 installations and more than 700 clients worldwide, Integro Technologies is an innovator in machine vision and system integration providing turnkey solutions, consulting, and support services for a wide range of industries.
About CFE Media LLC
CFE Media provides engineers in manufacturing, commercial and industrial buildings and manufacturing control systems with the knowledge they need to improve their operational efficiency. CFE Media delivers the right information at the right time through a variety of platforms. CFE means "Content for Engineers", and CFE Media means comprehensive, relevant content delivered to engineers around the world – on time, on their schedule. CFE is the platform for content, community and applications that engage engineers worldwide to share, learn and increase productivity across all engineering designs, systems, and plants.