Integro Tech Turns Fifteen
Where it all began
It all started in 2000. Thomas Campion was an engineering manager living just outside of Chambersburg, Pennsylvania.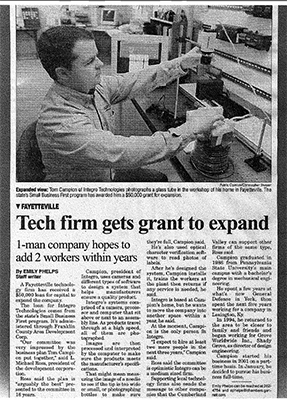 It was just before New Year's Eve. He was having dinner at his favorite Chinese food restaurant, and there, among the pork fried rice and wonton soup, Integro Technologies was born.
After dinner, Thomas picked up a fortune cookie, and the fortune read, "Don't be afraid to take that big step." And just then, he made the decision. He filed as a corporation with a start date for January 1, 2001.
"I knew that Integro had the potential to serve a need in the machine vision industry. I knew that the company would grow to be successful," said Thomas. "But I never imagined what Integro would become 15 years later."
Thomas, an alumnus of Penn State University, worked as a principal engineer for some of the world's leading material handling companies. In the mid- 1990s, the machine vision industry began its rise in manufacturing environments, and Thomas jumped at the opportunity.
In 2001, Integro Technologies was a one-man operation in Pennsylvania.
Today, Integro Technologies has become a premier, machine vision integrator trusted by industries and companies around the world. Integro now has 43 employees, and is headquartered in Salisbury, North Carolina, with an additional five offices throughout the southeast United State. Integro is on a trajectory to have 60 employees by the end of 2016.

"It is astonishing to see how much, and how quickly, we have grown," said Thomas.
Integro Technologies has grown to be the largest machine vision integration company in the United States.
"We continue to operate on a 'few good people' motto. Transitioning from 3 to 43 employees may seem trivial to some people in the commodity product or service industry. But every project we do is unique and requires highly-specific, custom engineering," said Shawn Campion, President of Integro.
Move to North Carolina
In 2005, Shawn Campion, a Senior Application Engineer for one of the largest machine vision companies, and Starke Farley, an applications engineer, joined the company as partners.
Integro shifted operations to Salisbury, a small city right in the center of North Carolina on the Interstate 85 corridor, and set up shop in a small, renovated warehouse.
"Travelling throughout North America for the majority of my career, I knew that locating within the vicinity of a logistics hub was critical to our success to support customers domestically and internationally," said Shawn.
Thomas, Shawn, and Starke had more work than they could handle, and the third phase of Integro began.
More employees were brought on, and teams were formed: design, engineering, and assembly.
Industries Served
As the company grew, so did their customer-base. Integro served key accounts with Procter & Gamble, RJ Reynolds, Toyota, Gatorade, and many others. The company was inspecting automotive parts, computer parts, packaging, consumer products and more.
Requests came from all over the country, and some of those requests were indeed, odd.
"One company asked us if we could develop a vision system to detect the sex of mosquitoes. It turns out that the antennae for male and female mosquitoes are different. It is not every day that a company asks you to inspect the gender of a mosquito," said Thomas.
Building the new headquarters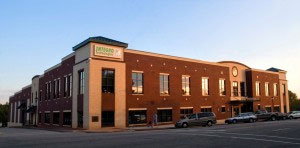 By 2012, Integro was outgrowing their facility after multiple expansions. The three partners decided it was time to make a big move.
With 13 employees, they were simply running out of space. So, they built their own building.
By November 2013, the new Integro Technologies headquarters was built in Historic Downtown Salisbury, North Carolina, about five blocks away from their old facility.
The Integro headquarters houses a 76-seat, stadium style auditorium for trainings and seminars, a specialized lab, a custom 16,000 square foot shop, and beautiful conference and meeting spaces.
The company had room to grow. And grow, they did.
As Integro approached its 15th year, it had grown to nearly 43 employees with five remote sales offices in Virginia, Maryland, Indiana, South Carolina, and Tennessee.
Industry partnerships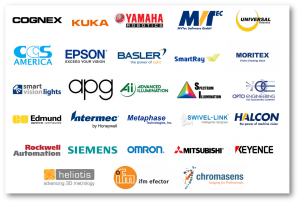 Integro holds partnership agreements with some of the world leaders in vision technology including Cognex, Keyence, Omron, KUKA Robotics, Yamaha Robotics, Mitsubishi Electric, ifm efector, Moritex, CCS America, MVTec, Matrox, Edmund Optics, Opto-Engineering, Smart Vision Lights, and more.
They were also among the first companies to become a certified integrator with the Advanced Imaging Association (AIA).
Chad McBride, the Engineering Manager at Schaeffler Group North America, manufacturer of roll bearings, plain bearings, and linear systems, has worked with Integro for over eight years. McBride said, "Integro Technologies has been phenomenal to work with. They understand the applications and are able to communicate the expectations and limitations of a solution. Integro truly is a team of professionals in the vision and integration field."
Randy Ponce de Leon, of Phase 1 Technology, said, Integro has "the ability to understand the end users requirements and provide a solution for that customer and create a product that could be deployed to other customers within that market segment. The ability to be nimble and make changes to a design quickly is another benefit to the Integro team."
Integro prides itself on its relationships with their many vendors, suppliers, and customers. Integro is most well known in the industry for innovation, dependability, flexibility, and expertise.
Thomas DuPriest, Principal Automation Engineer for Alcon Labs in Texas, said, "Integro is a company rarely found in today's market. They know what they can do, they clearly tell you what will be done, how it will operate, and then complete the project on time, on budget, and it works. Period. They really care about doing things right!"
Having worked with Integro for over five years, CCS America President, Shuji Moritmoto said, "Integro's extensive experience in varying applications is of great value to clients. Integro always offers high quality systems with flexible engineering work. Integro exceeds customers' expectations with professionalism and expertise."
Where they are headed
Fifteen years in the making, Integro's partnerships and customers span the globe. The company's business acumen is far-reaching in industries such as automotive, consumer goods, packaging, aerospace, pharmaceuticals, and robotics.
The company has been named a System Integrator Giant by Control Engineering for four consecutive years, won numerous awards from their partners, and has been honored as a one of the fifty fastest growing companies "Fast 50" by the Charlotte Business Journal twice.
"We are a full-service, machine vision integrator. It is what we do. It is only what we do," said Starke.
Integro is already one of the largest machine vision integrators in the world. While many companies have vision integration as an additional service, machine vision integration is Integro's only business.
During the company's annual meeting in January, which marked Integro's fifteenth year, every employee gathered in the company headquarters.
Thomas stood in front of the company and pronounced, "I had a dream for this company. I had no idea that fifteen years later, there'd be this many of us, working together, sitting in the building we built, and sailing to the top of the industry."
"The company is poised to make a series of major leaps in technology, customer-base, staff, expansion, and revenue. With the infrastructure, engineering talent, and management in place, we will be very aggressive driving into the future of machine vision and quality inspection," said Shawn.