Integrated IP65 Stepper Motors from Applied Motion Products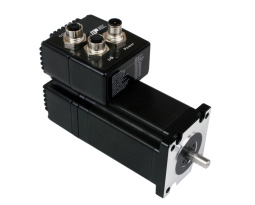 SWM integrated steppers from Applied Motion Products Inc. are IP65 rated drive+motor units, fusing step motor and drive components into a single splash proof and dustproof device. This space-saving design eliminates wiring and saves on cost over conventional motor and drive solutions.
The SWM24 integrated steppers combine high torque NEMA 24 step motors with a sophisticated, 6.0 A/phase (peak-of-sine) step motor drive. Power to the drive, located at the rear of the motor, must be supplied by an external DC supply. Applied Motion offers compatible 24 and 48 volt DC power supplies for exactly this purpose.
All SWM24 integrated steppers are RoHS and CE compliant. Features include:
Rated IP65 for wet and dusty environments
M12 connectors
Anti-resonance
Torque ripple smoothing
Microstep emulation
NEMA 24 frame size
Stored programming option for stand-alone operation
Step direction, velocity and streaming command control modes
RS-232, Ethernet and EtherNet/IP Communication options
Modbus/RTU for easy communication with PLC or HMI
Built-in incremental encoder
Company Contact
Warren Osak
Tel: 877-378-0240