Inside DENSO Robotics' Newest Training Center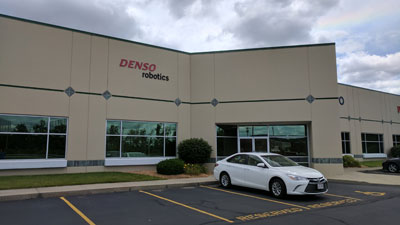 West Chester, Ohio -- DENSO Robotics takes pride in publicizing its latest and most modern Sales, Application and Training Center, located just 40 minutes northeast of Cincinnati.
At DENSO, developing the most advanced automation technologies is only half the story. Customer education and support are vital, ongoing services that must match the high quality levels set by DENSO products.
The DENSO Robotics Sales, Application and Training Center in West Chester, Ohio provides all of the above and more. Here, production operators, programmers and maintenance personnel are trained on the finer points of today's cutting edge robotic arms, controllers and applications.
Staffed with respected experts in their field, the center is designed to serve DENSO Robotics' customers in the Midwest, East Coast and Southern regions of the country. It operates in conjunction with two similar DENSO Robotics centers in Long Beach, California and Maryville, Tennessee.
This professionally-developed facility expands DENSO's customer support services, fulfilling the needs of end-users, approved distributors and system integrators alike. Training is designed to cover every base, including basic and advanced robot programming, operation, maintenance and ORiN programming language. Additional custom courses are offered to fit customers' special production and manufacturing needs.
All classrooms are well-equipped and allow education on a highly professional level. Students have access to all the latest DENSO controllers, vision hardware, wireless infrastructure and work stations, along with dedicated, hands-on robots.
"Everything at the Ohio facility is geared to maximizing the usefulness of DENSO robot arms in multiple industries," said Peter Cavallo, manager, Robotics Sales Department. "The center deliberately keeps class sizes small, with the ideal teacher-to-student ratio. The result is a deeper level of learning and product understanding."
Students can enhance the learning experience by participating in online video training and webcasts.
Customer Support classes are also available through the facility's website, complete with everything from video content, FAQ pages and product information to white papers and regional access to customer service, repair and application support resources.
This most recent support center is yet another indication of DENSO Robotics' commitment to the advancement of robotic automation systems, both in the United States and around the world.
DENSO is the world's largest manufacturer — and user — of small assembly robots, employing over 18,000 of its robots in its own facilities. Over 77,000 additional DENSO robots are used by other companies worldwide.
About DENSO in North America
DENSO is a leading global automotive supplier of advanced technology, systems and components in the areas of thermal, powertrain control, electronics and information and safety. With its North American headquarters located in Southfield, Michigan, DENSO employs more than 23,000 people at 30 consolidated companies and affiliates across the North American region. Of these, 28 are manufacturing facilities located in the United States, Canada and Mexico. In the United States alone, DENSO employs more than 17,000 people in Alabama, Arkansas, California, Iowa, Georgia, Kentucky, Michigan, North Carolina, Ohio, Pennsylvania, South Carolina, Tennessee and Texas. DENSO's North American consolidated sales totaled US$9.6 billion for the fiscal year ending March 31, 2017.
DENSO Worldwide
DENSO Corp., headquartered in Kariya, Aichi prefecture, Japan has more than 200 subsidiaries and affiliates in 38 countries and regions (including Japan) and employs more than 150,000 people worldwide. Consolidated global sales for the fiscal year ending March 31, 2017, totaled US$40.4 billion. Last fiscal year, DENSO spent 8.8 percent of its global consolidated sales on research and development. DENSO common stock is traded on the Tokyo and Nagoya stock exchanges.