Inertia Dynamics Spring Applied Brakes for Servo & Stepper Motors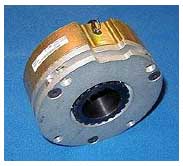 SAB brakes from Inertia Dynamics are designed to be engaged and disengaged in a static condition at zero RPM. They are best used as a parking brake to hold a load in position. These brakes can be mounted to a flange or motor using thru-holes or tapped holes in the field cup. A conduit box is optional.
SAB brakes have been used extensively for servo brake applications. High temperature coil insulations are available upon request. The SAB brakes are rated up to 1200 Lb-in static torque, and fit motors up to 6.5" OD.
Key Features:
12V, 24V, 90VDC or 120VAC windings
Static torque to 1200 lb-in
Bore sizes from 3/8" to 1.5"
Low current consumption
Low cost
Metric bores & special voltages available
Click here to view the specification on the Inertia Dynamics family of Spring Applied Brakes.