Industry's First PXI Express® HDMI Video and Audio Capture Card
rong>Highly integrated full analog/digital uncompressed video and digital audio capture for device testing

San Jose, CA - ADLINK Technology, Inc., a leading global provider of trusted testing and measurement products, announced today the release of the industry's first PXI Express® HDMI video and audio capture card, the PXIe-HDV62A, enabling integration of full single-card analog/digital video and digital audio input.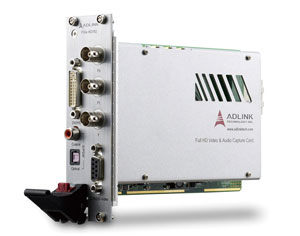 With over 10 year's experience in PXI/PXIe solutions, ADLINK has leveraged its expertise to provide video and audio testing systems that satisfy a wide range of automated measurement requirements, with the most recent, the PXIe-HDV62A, ideally suited for multimedia device testing.

The PXIe-HDV62A delivers superior quality high-definition video data from DVI or HDMI sources, provides analog video decoding, and comprehensively supports RGB, NTSC/PAL, S-video and YPbPr formats, with an integrated audio decoder for HDMI and S/PDIF capture. ADLINK's PXIe-HDV62A further supports uncompressed full HD up to 1080p at 60 fps, 10-bit high-resolution ADC, and HDCP. High integration allows the PXIe-HDV62A to easily manage a multitude of video and audio inputs, reducing total cost of ownership and installation.

"To ensure consistent quality in validation and manufacturing of multimedia devices such as set-top boxes, Blu-ray Disc players, and gaming consoles, the market demand for automated test with PXI systems has increased," said Neil Chen, ADLINK's product manager for Digital Imaging. "ADLINK, as a leader in PXI products for testing and measurement and a sponsor member of the PXI Systems Alliance, has utilized extensive field experience in the machine vision industry to meet the specific needs of automated measurement applications, such as multimedia device testing. ADLINK offers both PXI Express and PCI Express form factors to fulfill all user requirements."

ADLINK's PXIe-HDV62A supports LabVIEWTM and Microsoft® DirectShow, reducing engineering effort and accelerating time to market. ADLINK's PXIe-HDV62A is also equipped with ADLINK's ViewCreatorPro® utility, enabling system testing and debugging with no software programming required. Full driver support is provided for Windows® 7/XP.

A recommended PXI Express platform includes the PXES-2590 all-hybrid 9-slot PXIe chassis and the PXIe-3975, a 3U PXIe controller with Intel® Core™ i5-520E 2.4 GHz processor.

For more information on the PXIe-HDV62A, please visit: http://www.adlinktech.com/PD/web/PD_detail.php?cKind=&pid=1238&seq=&id=&sid=&source=PRWeb

About ADLINK
ADLINK Technology provides a wide range of embedded computing products and services to the test & measurement, automation & process control, gaming, communications, medical, network security, and transportation industries. ADLINK products include PCI Express-based data acquisition and I/O; vision and motion control; and AdvancedTCA, CompactPCI, and computer-on-modules (COMs) for industrial computing. With the acquisition of Ampro Computers, Inc. and LiPPERT Embedded Computers GmbH, ADLINK also provides a wide range of Rugged by Design products, including single board computers, computer-on-modules and systems.

ADLINK strives to minimize the total cost of ownership (TCO) of its customers by providing customization and system integration services, maintaining low manufacturing costs, and extending the lifecycle of its products. ADLINK is a global company with headquarters and manufacturing in Taiwan; R&D and integration in Taiwan, China, the US, and Germany; and an extensive network of worldwide sales and support offices.

ADLINK is ISO-9001, ISO-14001, ISO-13485 and TL9000 certified, is an Associate Member of the Intel® Intelligent System Alliance, an Executive Member of PICMG, a Sponsor Member of the PXI Systems Alliance, and a Strategic Member of the AXIe Consortium. ADLINK is a publicly traded company listed on the TAIEX Taiwan Stock Exchange (stock code: 6166).

Embedded Vision
This content is part of the Embedded Vision curated collection. To learn more about Embedded Vision,
click here
.