Industrial 3-CCD Camera Delivering 120 Frames/s
COP

ENHAGEN, DENMARK – JAI today announced that the company has added the AT-030MCL 3-CCD color progressive area scan camera to the company's industry-leading Apex series of prism-based industrial color cameras.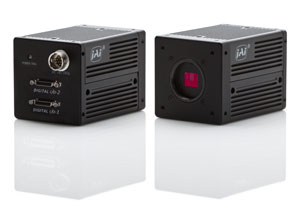 The AT-030MCL is a 0.3 megapixel camera delivering high frame rates and is a complement to JAI's popular AT-140 and AT-200 3-CCD area scan cameras with 1.4 and 2.0 megapixel resolutions, respectively. The new camera - equipped with Mini Camera Link interface - offers a combination of high speed, VGA resolution, and low price point.

AT-030MCL fills a gap in the market for high-speed machine vision sorting or inspection where there is a requirement to detect even the most subtle color variations on the inspected items - pharmaceutical inspection being a good example.

The AT-030MCL camera is equipped with JAI's advanced prism-block technology supporting three 1/3-inch CCDs providing higher color image fidelity and better spatial resolutions than cameras based on traditional Bayer color interpolation techniques. With its built-in 3-CCD technology the AT-030MCL captures a specific red, green and blue color value for each pixel providing some of the most precise color output available in the market.

The three ICX424AL CCD sensors deliver 659 (h) x 494 (v) pixels of resolution per channel with an individual pixel size of 7.4 by 7.4 microns. The camera operates at 120 frames per second at full resolution and with the use of partial scan and binning modes the camera can be set to operate at significantly higher frame rates. For example, with 1/8 partial scan, the camera delivers 659 (h) x 60(v) pixels at 422 frames/second.

Dual Camera Link interfaces let users choose between 8, 10, or 12-bit output per channel using a Camera Link base or medium configuration, as required. With full 36-bit RGB color output possible, no other progressive scan 3-CCD camera on the market offers higher color fidelity.

A variety of features are provided to optimize image quality for specific applications and lighting conditions. Included are four white balance modes (manual, one-push auto, continuous auto, and preset color temperature), three gamma settings plus a Look-Up Table (LUT), automatic shading compensation, blemish compensation, a knee function with individually adjustable RGB values, and a linear color matrix circuit enabling users to manually adjust each color channel or choose from pre-defined industry standard settings developed by HP, Microsoft, and Adobe.

Application examples:
The AT-030MCL is the ideal industrial camera in applications requiring a combination of moderate (VGA) resolution, fast frame rates (up to 120 frames/s with full resolution), and precise color data reproduction.

This makes the AT-030MCL particularly well-suited to the pharmaceutical industry where there is a need for high precision inspection of tablets and ampoules. Among the popular applications are color verification of mixed powders, completeness and precise color check of coatings on pills/tablets, verification of blister pack content, as well as validation of various color label information/bar codes on medicine bottles, ampoules and medicine packs to verify that they correspond to defined production specifications.

Besides pharmaceutical applications, the AT-030MCL is also relevant in food sorting, print inspection, LED diode inspection, PCB inspection and other high speed inspection applications, where there is a need to reject items with even very subtle color variations.

About the JAI Group:
JAI is a manufacturer of high quality, industrial-grade cameras for the machine vision, transportation, aerospace, homeland security, medical and scientific markets.

JAI's broad product line features high performance progressive scan CCD cameras with spatial resolutions from VGA to 16 megapixels; traditional interlaced video cameras; intensified cameras with sensitivity to light levels as low as .00001 lux, and a range of innovative multi-imager prism-block cameras including both area scan and line scan models.

Physical interfaces include the Camera Link®, GigE Vision®, and CoaXpress high performance digital standards, as well as both TV-standard and analog progressive scan output.

JAI cameras help improve customer businesses in a variety of ways, whether by improving quality and accuracy, lowering costs, increasing yields, or simply enabling better service. In addition to cameras, JAI's traffic solutions group is one of the world's leading manufacturers of specialized traffic systems. Solutions are based on JAI-developed hardware and software, which is often integrated with third-party products.