Increase Machine Control, Motion Capabilities, and EtherCAT System Support with Kollmorgen Automation Suite™
Updates deliver twice the control performance of prior versions, while enabling system-wide third party product configuration to be handled by the integrator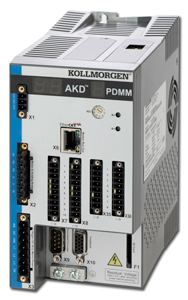 Kollmorgen introduces Kollmorgen Automation Suite™ (KAS) software version 2.8 and AKD servo drive platform firmware version 1.12. The additions include a new higher performance version of the AKD® PDMM, enhancements to the coordinated motion programming blocks and additions to the EtherCAT configuration tool. This enables OEM's who utilize Kollmorgen's automation and drive systems to deliver differentiated machines with greater system design flexibility, performance capability, and ease-of-use.
"The flagship enhancement to this version of Kollmorgen Automation Suite and AKD PDMM is a higher power version of the integrated Multiaxis controller/drive dubbed 'M1.' The M1 doubles the control performance of the standard PDMM and allows for more axes at faster update rates. It can control 30+ axes of motion, where the standard PDMM is equipped to control up to 16-axes. Alternatively, when compared with the standard PDMM in an application with the same amount of axes, this means most applications will be able to run twice as fast based on system load testing, which is particularly helpful in synchronized and coordinated systems that rely on microsecond timing," says Reid Hunt, Drives and Control Products Manager.
For material forming applications this means more accurate path motion, which is critical for accurate cutting and bending. For packaging, food, and converting applications, it means more accurate web tracking, sealing, gluing, cutting, and slitting. All of this is critical for today's more complex consumer packaging.
"Enhancements to the EtherCAT network configuration tool significantly improve ease of use and flexibility for OEMs, integrators and users," says Hunt. "In addition to plug-and-play networking for Kollmorgen branded products, now third party I/O and specialty devices from independent vendors can be configured on the network, by the customer, using the standard software. Even multi-device platforms (MDP) such as distributed I/O and safety modules can be configured with this tool. Engineers want to get systems up and working fast, but the next step is always optimization. With our tool set, they can accomplish both."
With coordinated motion blocks and enhanced capabilities, such as three-axis coordinated linear motion as standard, KAS is an ideal solution for more applications than ever before. A template project complete with preconfigured motion blocks, automation code and GUI code helps users get started with coordinated motion. This eliminates the need to control the timing and position of individual axes. It also enables the programmer to command motion in free space and just specify the end position and path.
With software version 2.8, connectivity has also been added to the KAS platform. Support for UDP and HTTP communication protocol, both common upper level IP-based communication protocols that have become ubiquitous in the networked world, are now standard for KAS controllers.
"It is common to pair a PC running some front-end application code with an automation controller to handle the synchronization of trajectories and machine automation," explains Hunt. "UDP is a simple communication protocol that allows for the fast transit of data between devices. Multiple KAS controllers can also be linked together using these communications protocols for a modular machine approach."
ABOUT KOLLMORGEN
Kollmorgen is a leading provider of motion systems and components for machine builders around the globe, with over 70 years of motion control design and application expertise. Through world-class knowledge in motion, industry-leading quality and deep expertise in linking and integrating standard and custom products, Kollmorgen delivers breakthrough solutions unmatched in performance, reliability and ease-of-use, giving machine builders an irrefutable marketplace advantage.