In Series Production: Four New ace U Models with the IMX287 and IMX273 Sensors from Sony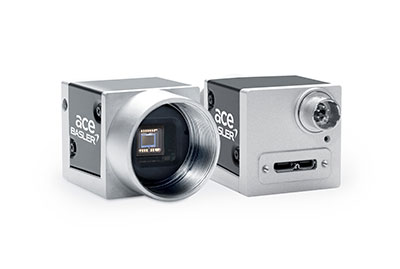 Four new Basler ace U cameras with the IMX287 and IMX273 sensors from the Sony Pregius series moved into series production. The four USB 3.0 models extend the ace U product line in the range of lower resolutions up to 1.6 MP.
Ahrensburg – The four new ace U USB 3.0 models from camera manufacturer Basler feature resolutions of VGA and 1.6 megapixels and have now moved into series production. They are equipped with the IMX287 and IMX273 sensors from Sony's Pregius series and deliver up to 525 frames per second.
The IMX273 sensor offers the well-known outstanding Pregius image quality, high speeds and low noise. The IMX287 sensor, on the other hand, has twice the pixel size with an edge length of 6.9 µm. This results in an increased saturation capacity and a higher dynamic range with the same sensitivity and also low noise.
Both sensors feature the Ultra Short Exposure Time Mode, which enables extremely short exposure times of up to one microsecond (1 µs). This makes the cameras particularly attractive for applications with fast movement, such as in the print sector. With their features, the four ace U models are also ideally suited as upgrades for CCD cameras with low resolutions.
The four new ace U USB 3.0 cameras include the feature set PGI, a unique combination of 5x5 debayering, color-anti-aliasing, denoising and improved sharpness.
About Basler
Basler is a leading manufacturer of high-quality cameras and camera accessories for industry, medicine, traffic and a variety of other markets. The company's product portfolio encompasses area scan and line scan cameras in compact housing dimensions, camera modules in board level variants for embedded solutions, and 3D cameras. The catalog is rounded off by the user-friendly pylon SDK plus a broad spectrum of accessories, including several developed specially for Basler and optimally harmonized for their cameras. Basler has three decades of experience in computer vision. The company is home to approximately 600 employees, at its headquarters in Ahrensburg, Germany, and at its subsidiaries and sales offices in Europe, Asia, and North America.