In Series Production: Basler MED ace Camera Compliant with DIN EN ISO 13485:2016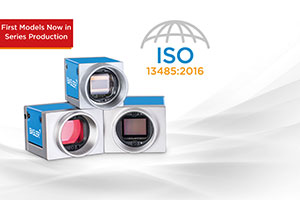 The specially developed Basler MED Feature Sets combine hardware, firmware and software features
Ahrensburg – The first models of the Basler MED ace camera series, produced in accordance with DIN EN ISO 13485:2016, have now entered series production (2 MP and 5 MP resolution). The camera series includes Basler's first cameras specifically designed for Medical & Life Sciences. They are also the perfect answer to Sony's discontinuation of CCD sensors. All models are equipped with the best CMOS sensor technology, which scores in terms of image quality and lower costs compared to classic CCD cameras. Featuring Sony's Pregius sensors or the PYTHON sensors from ON Semiconductor, the Basler MED ace achieves up to 164 frames per second and a resolution of up to 20 MP. The excellent performance is underscored by pixel sizes up to 5.86 µm, a low temporary dark noise of a minimum of 2e- and sensor sizes up to 1.1 inches.
With certification in accordance with DIN EN ISO 13485:2016, Basler now provides additional quality standards for the production, distribution and service of digital cameras as well as for placing them on the market. International manufacturers of medical devices benefit from an effective quality management system with clearly defined standards. Reliable product quality due to validated and monitored production, traceability and comprehensive change management reduces effort required for audits, product documentation and support in complying with European standards.
The Basler MED ace cameras also stand out with their unique Basler MED Feature Sets: Easy Compliance, Brilliant Image, Perfect Color, Low Light Imaging, High Speed and Industrial Excellence. The Feature Sets combine market-leading hardware, firmware and software features. Basler developed them addressing the high imaging demands in Medical & Life Sciences to reduce customers' development efforts. Basler's 6 Axis Operator and the Color Calibrator provide full control of the image's color appearance, which is highly relevant for applications in ophthalmology or microscopy. Basler's PGI and the other new, automatic image functions deliver supreme image quality in minimal time on color and monochrome cameras.
More information is available at www.baslerweb.com/medical
About Basler
Basler is a leading manufacturer of high-quality cameras and camera accessories for industry, medicine, traffic and a variety of other markets. The company's product portfolio encompasses area scan and line scan cameras in compact housing dimensions, camera modules in board level variants for embedded solutions, and 3D cameras. The catalog is rounded off by the user-friendly pylon SDK and a broad spectrum of accessories, including several developed specially for Basler and optimally harmonized for their cameras. Basler has three decades of experience in computer vision. The company is home to approximately 600 employees, at its headquarters in Ahrensburg, Germany, and at its subsidiaries and sales offices in Europe, Asia, and North America.
For more information, please contact us at +49 4102 463 500, e-mail us at sales.europe@baslerweb.com, or visit us on the web at www.baslerweb.com.