In-House Solutions Opens European Office
In-House Solutions Inc. is pleased to announce the opening of our new European office in Spalt, Germany, and we're thrilled to welcome Dieter Ottmann as Managing Director.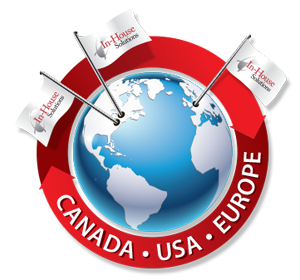 In-House Solutions, Europe GmbHOttmann will lead In-House Solutions, Europe GmbH, in marketing its innovative OCTOPUZ software worldwide by serving the European market through direct sales and reseller partnerships. Earlier this year, In-House Solutions opened its first American office in Richboro, Pennsylvania, and industry response has been overwhelmingly positive. The company has also experienced similar anticipation with the launch of its newest location in Germany.

"I'm very pleased to be heading In-House Solutions, Europe GmbH, and to continue the work In-House Solutions Inc. is doing with robot programming software," said Ottmann. "OCTOPUZ is going to change the way we look at robotic challenges in Europe, and I know that the industry will be excited to integrate this product into their applications."

Ottmann brings over 25 years of experience and knowledge in CAD/CAM and offline robot programming to the role. He previously worked for unicam Software GmbH as the General Manager, CAD/CAM and will be instrumental in bringing OCTOPUZ to customers on an international level.

"In-House Solutions is thrilled to have Dieter join our team," said company CEO and President Ed House. "His experience in the field of robotics software and his reputation throughout the industry will help us grow and serve the needs of our clients outside North America. We're very pleased to have Dieter on board."

OCTOPUZ is an intelligent CAD-to-Path and offline robot programming and simulation software solution ideal for any path-sensitive application. Offering capabilities not found in other robot programming software options, OCTOPUZ can program (OLP) and simulate multiple robots simultaneously, provide offline robotic cell development and machine tending, offer easy full factory simulation, and supports a wide variety of applications.

"OCTOPUZ is ideal for any industry utilizing robotic manufacturing technologies," House explained. "No other platform has the reach and versatility to take interface simplicity and core power to this level. Our customers have to experience it to believe it."

To learn more about In-House Solutions, Europe GmbH, visit our OCTOPUZ website or call 1-800-529-5517.