IMT-1 Rugged Android Tablet
rong>IMT-1 offers wireless connectivity with data capture and built-in WLAN or WWAN connectivity for a wide variety of industrial and commercial settings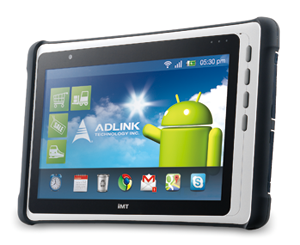 ADLINK Technology, a leading global provider of cloud-based services, intelligent gateways, and embedded building blocks for edge devices that enable the Internet of Things (IoT), today announces the release of its new IMT-1 Android 4.2 tablet, integrating the TI OMAP5432 1.5GHz dual-core ARM A15 processor for high performance computing power. Built-in WLAN or optional WWAN connectivity enables the IMT-1 to easily access information in a wide variety of workplace scenarios. An IP54 rating and 1.2 meter (with optional protective housing) drop resistance supports significantly ruggedized construction to withstand the most demanding environments.

Consumer-style design with industrial durability
The IMT-1 is as attractive as the market's leading consumer tablets, with a 10.1" capacitive touchscreen and built-in megapixel cameras on the front and rear. The IMT-1 is fully ruggedized, with an IP54-rated structure delivering the durability to withstand drops up to 1.2 meters (with optional protective housing). An ultra-strong Gorilla® Glass display keeps the tablet virtually impervious to damage and is able to flex on impact without shattering or scratching.

Functional in various workplace scenarios
The IMT-1 supports 802.11 a/b/g/n protocols for the fastest wireless connectivity in any setting. The data-only modem supports the IMT-1 on optional high-speed 3.5G HSPA+ or 4G LTE cellular connections. In the office or out in the field, with WLAN or optional WWAN connectivity, the IMT-1 supports speedy data transfer and processing. The tablet's sunlight-readable display enables clear, easy viewing even in the brightest outdoor environments.

Advanced HF RFID technology with data security
The IMT-1's NFC reader/writer supports recognition of RFID tags (13.56 MHz) and a built-in standard SAM (Secure Access Module) slot dependably secures communication of encrypted data for sensitive and confidential applications.

For more information on ADLINK's IMT-1 Android 4.2 industrial tablet, please visit http://www.adlinktech.com/.

About ADLINK
ADLINK Technology is enabling the Internet of Things (IoT) with innovative embedded computing solutions for edge devices, intelligent gateways and cloud services. ADLINK's products are application-ready for industrial automation, communications, medical, defense, transportation, and infotainment industries. Our product range includes motherboards, blades, chassis, modules, and systems based on industry standard form factors, as well as an extensive line of test & measurement products and smart touch computers, displays and handhelds that support the global transition to always connected systems. Many products are Extreme Rugged™, supporting extended temperature ranges, shock and vibration.

ADLINK is a Premier Member of the Intel® Internet of Things Solutions Alliance and is active in several standards organizations, including PCI Industrial Computer Manufacturers Group (PICMG), PXI Systems Alliance (PXISA), and Standardization Group for Embedded Technologies (SGeT).

ADLINK is a global company with headquarters in Taiwan and manufacturing in Taiwan and China; R&D and integration in Taiwan, China, the US, and Germany; and an extensive network of worldwide sales and support offices. ADLINK is ISO-9001, ISO-14001, ISO-13485 and TL9000 certified and is publicly traded on the TAIEX Taiwan Stock Exchange (stock code: 6166).