Improved Dark Current Noise Camera Family
Ottawa, Ontario, Canada – July 31, 2012 – Lumenera Corporation, a leading developer and manufacturer of high performance digital cameras and custom imaging solutions today introduced improved performance for its 1.4 megapixel USB 2.0 camera series. Lumenera's newly enhanced Lw130R and Lw135R research-grade cameras accumulate very little dark current noise, making them ideal for industrial and scientific OEM imaging applications that require long integration times.

The improved Lw130R and Lw135R cameras utilize the high quality Sony HAD ICX205 ½" progressive scan CCD sensor, offering low smear and excellent antiblooming characteristics. With a fully global electronic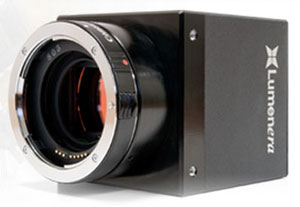 shutter and small image integration time, this camera can capture high-speed motion images with zero chance of blur. The color model provides brilliant images in the visible light spectrum, while the monochrome model is sensitive in the Near Infrared (NIR). Region of Interest (ROI) and binning modes allow the camera to run at faster frame rates while only providing the image data you need. Image capture synchronization is achievable using either a hardware or software trigger and is complemented by 32 MB of onboard memory for frame buffering to ensure
delivery of each image to your application.
The Lw130R is a board level camera module ideally suited for custom and OEM imaging applications, while the Lw135R is a fully enclosed camera offering a rugged industrial case designed for harsh environments. Either solution can be modified to suit specific budgetary or project requirements. These cameras are also available with a scientific-grade option that is well matched for collimated light applications, including custom and OEM microscopy.

"Lumenera is excited to bring to market the improved Lw130R and Lw135R camera series. The enhancements of reduced read and dark current noise levels meet the high-level performance OEM applications demand." said Dany Longval, Director of Product Management at Lumenera Corporation. "In fact, the improvement in noise performance is so great that this family of cameras now rivals single-stage cooled cameras on the market without the added expense."

This newly enhanced USB 2.0 camera series features powerful onboard processing to deliver optimal image quality. Standardized USB 2.0 cabling and digital interface ensure a simple plug-and-play installation with only one cable to minimize clutter. A USB 2.0 interface provides sufficient power to the camera to eliminate the need for an additional power source. As with all of Lumenera's USB cameras, our powerful Software Developer's Kit (SDK) is available to quickly integrate camera functions into OEM applications. The SDK provides a full suite of features and functions that allow you to maximize the performance of your camera within your application. Microsoft DirectX/DirectShow, Windows API and .NET interfaces are provided allowing you the choice of application development environments.

The Lw130R and Lw135R camera series, offered in both color and monochrome, is now available. Contact Lumenera with your imaging requirements or visit the Lumenera website for more information.

About Lumenera
Lumenera Corporation, a division of Roper Industries, and headquartered in Ottawa, Canada, is a leading developer and manufacturer of high performance digital cameras and custom imaging solutions. Lumenera cameras are used worldwide in a diverse range of industrial, scientific and security applications.

Lumenera solutions provide unique combinations of speed, resolution and sensitivity in order to satisfy the most demanding digital imaging requirements. Lumenera customers achieve the benefit of superior price to performance ratios and faster time to market with the company's commitment to high quality, cost effective product solutions.