IMPERX Displays New 3G-SDI Camera Offering Amazing Sensitivity and Dynamic Range at Automate 2017 Show in Chicago, IL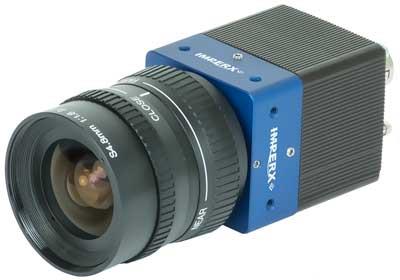 Boca Raton, FL - IMPERX, Inc., a leading global designer and manufacturer of high quality, ruggedized digital CMOS and CCD industrial cameras and imaging systems, announces the Cheetah C2010 3G-SDI CMOS video camera at the Automate 2017 show at the McCormick Place Convention Center in Chicago, IL at Booth #2540. The C2010 model has 1080p resolution and frame rates up to 60 frames per second. The broadcast quality camera is compatible with 3G-SDI (SMPTE 424-1) or HD-SDI (SMPTE 292M) output and suitable for aerospace, medical, scientific, transportation, and similar applications.
The ruggedized C2010 camera is only 37mm x 37mm x 50.8mm in size making it easy to integrate into space-constrained applications. It combines the speed and quality of the Pregius IMX-265 CMOS image sensor with Imperx engineering expertise to deliver a flexible and easy-to-use camera with superb sensitivity and amazing dynamic range - up to 71 dB.
The camera features tri-level sync input, strobe output, automatic exposure / gain controls, and multiple lookup tables (LUT). The C2010 camera uses industrial grade components making the camera useful over a wide temperature range in extreme environments.
As the largest solutions-based showcase of automation technologies in North America, Automate demonstrates the full spectrum of automation technologies and solutions for a broad array of industries. This show features the latest automation, robotic, vision and motion control technologies and systems on display for leading global suppliers.
"The camera's tiny size, durable construction, high sensitivity and ability to adjust exposure /gain automatically to changing light conditions are ideal for applications in industrial imaging, surveillance, metrology, and medical / scientific applications," says Petko Dinev, Imperx President and CEO. "When you add together the camera's speed, image clarity, small size, and low power consumption, you can see almost endless uses for it."
Come visit IMPERX at Booth #2540 for additional features and options regarding the NEW Cheetah C2010 3G-SDI camera and let our experienced team help you find the right solutions to meet your automation challenges.
C2010 3G-SDI Features:
Global shutter
Outstanding sensitivity and color reproduction
Automatic Exposure and Gain control
Gamma and black gamma controls
Automatic white balance
Fully programmable independent LUTs
Programmable strobes
Field upgradeable firmware
Evaluation units of the Cheetah C2010 camera are available today with production launch scheduled for Q2 2017.