Imperx Announces Cost-Effective Cheetah Industrial CMOS Cameras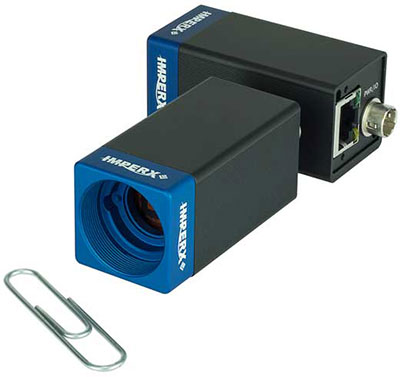 Power over Ethernet (PoE) Cameras Deliver High Resolution, Precision Performance and Exceptional Value
Imperx, Inc., announces the release of its Cheetah 5-MP, and 3-MP CMOS cameras using Sony Pregius image sensors. The camera's GigE Vision PoE interface and streamlined dimensions simplify camera installation while the camera's efficient and flexible feature set jumpstarts your system integration. The cameras extended temperature range increases durability making these cameras perfectly suited to industrial, automation, and machine vision applications.
The cameras are both outfitted with a standard "C" type lens mount, but the 5-MP camera has a larger 2/3" optical format while the 3-MP camera has a 1/1.8" format. Both cameras provide selectable 8, 10, or 12-bit outputs. The Sony Pregius sensors have global shutter and 3.45-micron square pixels delivering high sensitivity and dynamic range up to 71dB.
These small cameras are only 29mm wide by 60 mm long and ideal for motion capture and high-quality images in space-restricted applications. The cameras are GenICam™ compliant shortening your software development cycle.
The C2400 camera is a 5-megapixel camera using the IMX264 sensor with 2464 x 2056 resolution and a 2/3" optical format. The camera achieves frame rates up to 22 fps.
The C2000 camera is a 3.1-megapixel camera using the IMX265 sensor with 2064 x 1544 resolution and a 1/1.8" optical format. The camera achieves frame rates up to 36 fps.
Features
Operational Temperature Range: -30° C to +70° C ? Global shutter ? Ultra-low dark current ? Color or monochrome ? Outstanding sensitivity and color reproduction ? Opto-isolated input and output ? Ruggedized design ? Auto-white balance ? One area of interest ? Multiple trigger modes Exposure Timer ? Field upgradeable firmware
About Imperx, Inc.
Imperx, Inc. is a leading global designer and manufacturer of superior quality digital imaging products and software. Imperx products serve in aerospace and defense, machine vision, transportation and engineered systems, automation, plus many more industries. For more information, visit Imperx, Inc's website at www.imperx.com