Image Acquisition and Processing in Real-time
<!-

-[if gte mso 9]> Normal 0 21 MicrosoftInternetExplorer4 <![endif]-->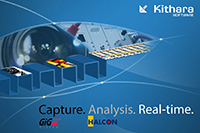 The company Kithara Software from Berlin closes a gap and creates a coherent real-time cycle with image acquisition, image processing and output under Windows
®
through the new Vision Module.
Previously, it was already possible to react to images in real-time which were acquired by GigE Vision® cameras. In order to obtain real-time for this process, the Kithara real-time driver signals the existence of the entire image to the network controller within a few microseconds after receiving the last parts of the image.

The new software component now enables the immediate image processing in real-time by user's image processing algorithms, as well as by the comprehensive image processing library HALCON™ from the Munich-based company MVTec. In this way, more than 1800 processing operators are available in real-time that enable the implementation of high-performance machine vision applications.

The »RealTime Suite«, already used for many years by numerous manufacturers of testing stands and in machine building, automation and robotics further simplifies the implementation of powerful industrial image processing solutions. The output of the result of the image analysis can be accomplished by solutions integrated in the »RealTime Suite«, e.g. the EtherCAT® master software of Kithara.

Such an integrated comprehensive solution in real-time for image acquisition, image processing and process integration under the operating system Windows did not exist before, despite the widespread use of machine vision. However, this is very important in mechanical engineering, e.g. to get an immediate reaction to product defects for quality assurance.

The software supports all Windows systems including Windows 7 and 8 (32 bit or 64 bit) with C/C++ or Delphi. The supported languages for real-time programming are C/C++ and Delphi. The real-time application can also be embedded in C#.