ILM12F - Focusable IP54 Laser Module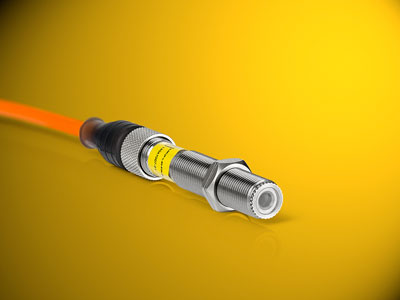 520 nm and 635 nm Line, Cross-Hair, or Dot Lasers
LASER COMPONENTS' ILM12F laser modules are focusable and equipped with green laser light at 520 nm. They are available as cross-hair lasers, line lasers, and naturally as dot lasers.
The ILM12F series was created for application in the industrial environment: The metric ISO M12 thread was integrated in the stainless steel housing of the laser. Quick to screw in and connect, it is the perfect tool for the alignment of machines, adjustment work, or the positioning of, for example, the drill core to a workpiece. The lasers are well protected; they are not affected by dust in damaging amounts or splashing water. In technical jargon, this is referred to as protection class IP54.
Green light is visible, even on dark or structured surfaces: Whether black rubber, gray steel, or painted sheet metal, it may also become wet. To the human eye, green light appears more than twice as bright as red light at the same amount of power. The ILM12F module is still available with red light (635 nm).
The ILM12F laser module is manually focused without any tool - working distances between 10 cm and ∞ can be adjusted.
About LASER COMPONENTS
LASER COMPONENTS specializes in the development, manufacture, and sale of components and services in the laser and optoelectronics industry. At LASER COMPONENTS, we have been serving customers since 1982 with sales branches in five different countries. We have been
producing in house since 1986 with production facilities in Germany, Canada, and the United States. In-house production makes up approximately half of our sales revenue. A family-run business, we have more than 200 employees worldwide.