igus starts the ball rolling with high temp bearings
EAST PROVIDENCE, R.I. – March 11, 2009 – igus® now offers lubrication-free polymer ball bearings due to increasing customer demand for maintenance-free solutions in this area. The company's Xiros ball bearings are technically optimized, available from stock and have a predictable service life.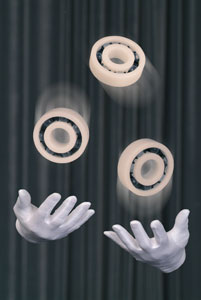 They are designed to fill the gap where conventional ball bearing performance is limited by parameters such as temperature, chemical or moisture exposure. Special solutions are generally difficult to come by or only available at great cost, so igus decided to apply its years of experience working with tribologically optimized polymers to replace ineffective standard materials.
The races and cage of the new ball bearings are made from igus' high-temperature material iglide® A500, which has an exceptionally good chemical resistance. The corrosion-free balls are made from stainless steel, although glass balls are available for maximum corrosion resistance.
The deep-groove ball bearings are available for varying shaft diameters and are temperature-resistant up to 302 degrees Fahrenheit. Application areas for these bearings include medical engineering, chemical, food, pharmaceutical, biotechnology and plant engineering.
According to igus, the dry running polymer ball bearings do not compare with permanently-lubricated metal roller bearings when it comes to service life, speed or permissible loads. However, in many applications this is not an important factor; instead, low friction values and minimal driving forces are usually the basic requirement.
The igus polymer ball bearings are unique because they are available from stock and can be used in combination with potentially corrosive elements, such as chemicals. They do not require any lubrication, making them compliant with food industry standards.
igus intends to expand this range in keeping with its ongoing pursuit towards customer-specific solutions using high-performance polymers.
About igus
igus Inc., founded in 1985 and based in East Providence, R.I., develops and manufactures industry-leading plastic cable carriers, continuous-flex cables, plastic bearings and linear guide systems. With more than 70,000 products available from stock, the company meets the motion control and machinery component needs of customers worldwide. Product lines include Energy Chain Systems® to protect and house moving cables, Chainflex® continuous-flex cables, iglide self-lubricating, oil-free, plastic bearings, DryLin® linear guide systems and igubal® spherical bearings. For more information, contact igus at (800) 521-2747 or visit www.igus.com.
igus and iglide are registered trademarks of igus Inc. All other company names and products are trademarks or registered trademarks of their respective companies.

For press inquiries:
Nikki Groom
Marketing Specialist
Courtney Toomey
Marketing Specialist
For general inquiries:
igus Inc.
PO Box 14349
East Providence, RI 02914
Toll free: 1-800-521-274
Tel: (401) 438-2200
Fax: (401) 438-7270
Web: www.igus.com