igus ReadyChain Reduces Downtime for Second Largest Marine Terminal in Virginia
Pre-harnessed Energy Chain cable carriers and Chainflex cables used on
ship-to-shore crane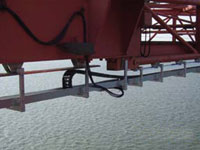 Friday, January 25, 2008 (Robotics Online) – igus® Inc., the industry-leading developer of Energy Chain Systems®, Chainflex® continuous-flex cables and iglide® plastic bearings, and an RIA supplier member, today announced that Portsmouth Marine Terminal (PMT), operated and maintained by Virginia International Terminals (VIT), uses ReadyChain—igus' complete, preassembled cable carrier systems that combine Energy Chain® cable carriers with the company's Chainflex cables.
PMT currently operates six crane-to-handle containers, RO/RO and break bulk cargo. On one of its cranes, a Paceco crane, PMT began experiencing wind problems and roller and tow cable failures on all its festoon systems. This problem prompted the company to look for an alternate method of delivering communications and power from the back reach of the crane to the operator's cab, which moves independently of the crane boom.
The best solution was igus ReadyChain, which provided PMT with an out-of-the-box, plug-and-play solution. PMT uses igus Rol-E-Chain, an Energy Chain with integrated rollers to reduce friction, and Chainflex continuous-flex cables. The trolley moves 410 feet per minute and employs a vertical, supported Energy Chain assembly that glides on itself in a guide trough. The assembly is attached to the crane's underside and suspended in the air. Due to Energy Chain's all-polymer construction, it is impervious to the wide range of harsh elements encountered by the crane and is corrosion resistant.
''Driven by our desire to minimize downtime on equipment, we are always looking for innovative ways to improve reliability,'' said Mike Petty, crane maintenance supervisor for Virginia International Terminals. ''This is what led us to igus ReadyChain Systems. I need to be able to say I tested it and it works—100 percent. ReadyChain works and I am completely confident in this product. ReadyChain gives us higher reliability at a lower cost.''
To learn more about Virginia International Terminals and Portsmouth Marine Terminal, go to www.vit.org. To read other customer success stories featuring igus products, visit the Application Corner at www.igus.com/applicationcorner.
About igus
igus Inc., founded in 1985 and based in East Providence, R.I., develops and manufactures industry-leading plastic cable carriers, continuous-flex cables, plastic bearings and linear guide systems. With more than 28,000 products available from stock, the company meets the motion control and machinery component needs of customers worldwide. Product lines include Energy Chain Systems to protect and house moving cables, Chainflex continuous-flex cables, iglide self-lubricating, oil-free, plastic bearings, DryLin® linear guide systems and igubal® spherical bearings. For more information, contact igus at (800) 521-2747 or visit www.igus.com.
igus, Energy Chain Systems, Chainflex, iglide, DryLin and igubal are registered trademarks of igus Inc. All other company names and products are trademarks or registered trademarks of their respective companies.
For general inquiries:
igus Inc.
PO Box 14349
East Providence, RI 02914
Toll free: 1-800-521-2747
Tel: (401) 438-2200
Fax: (401) 438-7270
e-Mail: sales@igus.com
Web: www.igus.com