igus' Expert System Complimentary, 24-Hour-Accessible Database
The igus Expert System is a complimentary, 24-hour-accessible database that accurately predicts the life expectancy of its plastic bearings for use in any application based on given application parameters. The Expert System contains more than 15 years of intensive product testing data. It is frequently used by igus' design technicians, but is also available to igus customers.

The system collects information from the user—such as maximum bearing loads, average surface pressures, chemical exposures and wear limits—through a step-by-step,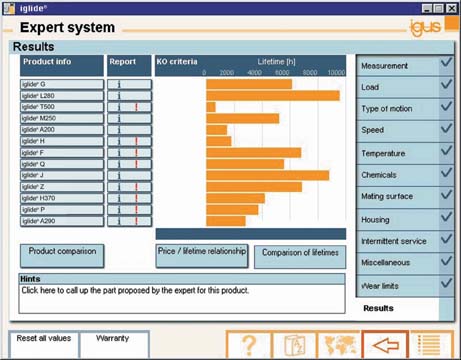 question-and-answer process. The system then cross-references the provided information within a matter of seconds with tens of thousands of testing results on file and igus' 8,000-plus bearing offerings. The result: numerous bearing choices with accurate life expectancies and performance patterns laid out on an analysis sheet for igus' customers.
igus performs more than 5,000 experiments per year on its lines of iglide plastic plain bearings, igubal spherical bearings and DryLin linear bearings, guides and slide tables. More than 10 years ago, the company used the data garnered from its testing to compile a database containing the tribological properties of its plastics. igus continually enters new experiment results into the Expert System and even performs customized tests for customers.
The Expert System takes the guesswork out of choosing a machinery component. Engineers can eliminate timely, high-cost experiments they would otherwise have to perform themselves. Users can choose to compare their own test results with igus', but also can rely solely on the Expert System, as it includes a hefty safety margin. This safety margin ensures the system's recommendations survive even the worst-case scenario.
The system is broken down into 11 Q-and-A sections:
Measurements
Loads
Types of Motion (rotating, linear, pivoting?)
Speeds encountered (number of revolutions, rotating speeds?)
Temperatures encountered
Chemicals encountered
Mating surfaces (shafting material, thermal conductivity?)
Housing material (steel, aluminum?)
Intermittent service (turn-on time, stand-still period?)
Miscellaneous elements (outdoor use, exposures to dust or dirt?)
Wear limits
The data is analyzed and an in-depth breakdown showing which igus bearings (by material) are best suited for an application is provided. The report provides suitable bearing choices compared by cost, lifetime down to the hour, wear rates and more.
If a tough, highly wear-resistant bearing is needed, the Expert System might suggest iglide G300 or iglide L280. Both bearings are comprised of a thermoplastic base material, which is ideal for demanding applications. The G300 is more cost-effective; while the L280 features a higher wear resistance and lower coefficient of friction. By using the Expert System, customers can make an educated decision on which features best suit their application.
The Expert System is free to all users and is available on igus' website (www.igus.com).