igubal® Self-aligning Spherical Bearings Prove Versatile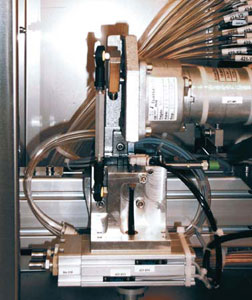 EAST PROVIDENCE, R.I. – igubal® spherical bearings from igus® are self-aligning components—rod ends, clevis joints, flange bearings, pivot bearings and pillow blocks—made entirely of high-performance plastics. They are self-lubricating, easy to install and can be used in many different industries and applications.

A manufacturer of equipment producing Blu-ray discs and CDs/DVDs uses igubal rod end bearings in the coating module of its machine. During a bench test performed by the company, the rod ends operated for more than 95-million cycles without any maintenance issues. The bearings' lightweight, space-saving design was also a big advantage.

A profile-systems manufacturer uses igubal spherical bearings for a similar reason, having replaced heavy metallic roller bearings and ball bearings in a packaging-line pedestal that swivels and rotates movements. igubal is 80 percent lighter than conventional steel spherical bearings and operates seamlessly in the machine, which produces 20 profiles per minute for three shifts a day, five days a week. The bearings also require no lubrication so they do not suffer from ingress of dirt or oil produced by the equipment.

Another company uses igubal pivot bearings on a machine that handles food for the packaging industry. The bearings withstand the aggressive cleaning agents used to sterilize the machine because they are corrosion- and chemical-resistant. They also do not require grease, which could contaminate the products being packaged.

igus' entire line of igubal spherical bearings is vibration dampening and can operate in liquids, chemicals, dirt, or dust. They adapt to angular deviations and can replace special housings in many cases. igubal's housings are made of igumid D, a highly shock-resistant plastic, while its spherical balls are made from igus' iglide® L280 material, which delivers a long service life with high-wear resistance and a low coefficient of friction. igubal spherical bearings are available from stock, with no minimum order. For free samples, call 1-888-803-1895 or e-mail [email protected].

About igus
igus develops industry-leading Energy Chain® cable carriers, Chainflex® continuous-flex cables, iglide plastic plain bearings, igubal spherical bearings, DryLin® linear bearings and guide systems. These seemingly unrelated products are linked together through a belief in making functionally advanced, yet affordable plastic components and assemblies. With plastic bearing experience since 1964, cable carrier experience since 1971 and continuous-flex cable since 1989, igus provides the right solution based on 70,000 products available from stock. No minimum order required. For more information, contact igus at (800) 521-2747 or visit www.igus.com.