igubal® K-Series Clip-In Rod End Bearings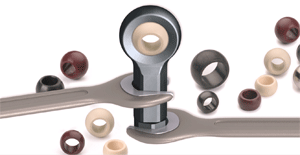 igus® now offers its igubal® K-Series rod end bearings in a clip version with different ball materials. The new clip-in feature makes the dimensionally interchangeable rod ends more versatile. The balls are available in six high-performance plastic blends, as well as stainless steel.
Each iglide® material has a unique set of properties that help determine its suitability for a given application. Currently, the spherical balls come standard in the material iglide L280, which is ideal for applications with high wear rates.
The balls are also offered in iglide R: a cost-effective material, iglide J: a low-friction material, iglide J4: a material with low moisture absorption, iglide T500 for environments exposed to chemicals and high temperatures, and iglide UW specifically for underwater applications. All five iglide materials are self-lubricating, corrosion resistant and lightweight.
igubal rod ends are suitable for rotating, oscillating and linear movements.
To request a free sample, visit www.igus.com/quickorder or call 1-800-521-2747.
About igus
igus develops industry-leading Energy Chain® cable carriers, Chainflex® continuous-flex cables, iglide plastic bushings, igubal spherical bearings, and DryLin® linear bearings and linear guides. These seemingly unrelated products are linked together through a belief in making functionally advanced, yet affordable plastic components and assemblies. With plastic bearing experience since 1964, cable carrier experience since 1971 and continuous-flex cable since 1989, igus provides the right solution from over 80,000 products available from stock. No minimum order required.