IDS Presents Industrial Camera Models with USB 3.1 Interface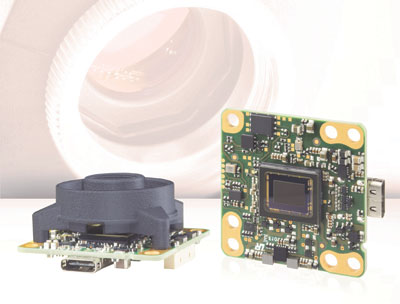 Cost-effective project camera series with Sony's CMOS sensors IMX178 and IMX290
IDS Imaging Development Systems is the first industrial camera manufacturer offering a camera series with future-oriented USB 3.1 Type-C connector: the newly-developed USB 3 uEye LE series. These small, cost-effective project cameras will be available as housed or single-board version with different lens holders. The latest generation of high-performance CMOS sensors will be integrated starting with Sony's 2 MP IMX290 sensor and 6 MP IMX178 sensor from its STARVIS series. Other CMOS sensors from ON Semiconductor, Sony and e2v will follow. Engineering samples for design-ins will be available in September as serial production is determined for the end of 2016.
With the latest generation of the USB 3 uEye LE series, IDS focusses on the essentials of an industrial camera: small, cost-effective, powerful sensors. Thanks to the compact dimensions (36 x 36 mm) even the new USB 3.0 camera generation can be integrated into a system particularly easily. Like its successful USB 2.0 counterpart, it will be available in different variants: as single-board version without lens holder, single-board version with S-Mount lens holder or CS-/C-Mount lens holder, and as housed version with CS-/C-Mount. The Type-C connector is the first step forward to USB 3.1, and the IDS portfolio provides appropriate cables with both-way pluggable USB connectors. The single-board version comes also with a 10-pin socket providing two general purpose I/Os, trigger and flash, as well as I2C bus for controlling external devices. The single-board cameras of the USB 3 uEye LE camera series are particularly appropriate to form the basis for OEM projects.
The first new model of modern, high-performance CMOS cameras is the UI-3860LE with Sony IMX290: the rolling shutter sensor provides a resolution of 2 MP (1936 x 1096 px, Full HD: about 120 fps) and aims at customers with high demands on image quality and speed. The light-sensitive BSI sensor from Sony STARVIS series is suitable especially for cost-driven applications in mechanical engineering, machine vision, metrology, medical engineering, or microscopy.
IDS will also be implementing Sony's IMX178 high-resolution CMOS sensor: the rolling shutter sensor provides a resolution of 6 MP (3088 x 2076) at frame rates of up to 60 fps. The model UI-3880LE is particularly well suited for visualization tasks demanding high image details e.g. Intelligent Transport Systems (ITS). The BSI sensor from Sony's STARVIS series will be one of the most light-sensitive sensors in the portfolio of the machine vision camera manufacturer. Due to its 1/1.8" sensor format, a wide range of lenses for the USB industrial camera will be available.
The related IDS Software Suite is an identical software package for all IDS camera models and interfaces, whether with USB 2.0, USB 3.0, or GigE interface. With it, users can keep their individual settings without having to change the program code, even if they change to another camera model. Good reasons to switch to IDS now.
Company Contact
Jan Jordan, Product Communications/PR
Tel: +49 7134 96196-154