IDS integrates Sony sensor IMX273 into all uEye camera families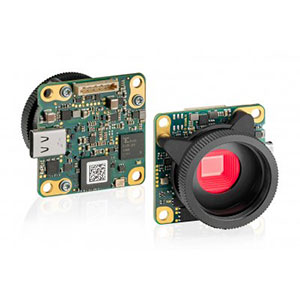 Excellent image quality, even under difficult conditions
uEye LE single-board cameras: cost-effective and space-saving
The IMX273 1.6 MP global shutter CMOS sensor from Sony provides enormous sensitivity, low noise levels and a high dynamic range. With the integration of this sensor into the uEye LE camera family, IDS has even more USB 3.1 Gen 1 cameras available that deliver up to 247 fps. With a wide choice of configurations, the uEye LE models are particularly well suited for equipment manufacturing and space-critical applications.
From April 2019, uEye LE models will complement the uEye CP, uEye FA and uEye SE variants that are already available with IMX273 from the Sony Pregius series. Depending on the application, customers can choose from models with color or monochrome sensors as well as from various housed and board-level variants - the latter with CS-/C-Mount or S-Mount options or without mount.
In addition, the low-cost uEye LE single-board cameras feature a twist-proof USB Type-C connection and USB Power Delivery. The USB 3.1 Gen 1 cameras can be quickly and easily put into operation thanks to the IDS-typical "Plug and Play" principle and simple handling via the IDS Software Suite.
This global shutter sensor provides users with excellent image quality. This becomes particularly apparent when used in poor lighting conditions or while taking images of fast-moving objects. Thanks to its outstanding features, this powerful 1/3" sensor is a sensible alternative to the discontinued ICX445 CCD sensor. It can be used in an extraordinarily wide range of applications from microscopy to classic machine vision tasks in industrial production or to traffic monitoring.
All IDS cameras available with IMX273 sensors are listed here: https://en.ids-imaging.com/store/products/cameras/ids-sensor-model/imx273llr-c.html
About IDS Imaging Development Systems GmbH
The industrial camera manufacturer IDS Imaging Development Systems GmbH develops high-performance, easy-to-use USB, GigE and 3D cameras with a wide spectrum of sensors and variants. The almost unlimited range of applications covers multiple non-industrial and industrial sectors e.g. in the field of equipment, plant and mechanical engineering. In addition to its successful CMOS cameras, the company expands its portfolio with vision app-based sensors and cameras. The novel image processing platform IDS NXT is freely programmable and extremely versatile.
Since its foundation in 1997 as a two-man company, IDS has developed into a globally leading, independent, ISO-certified family business with approximately 280 employees. The headquarters in Obersulm, Germany, is used for development as well as production. With subsidiaries in the USA, Japan, South Korea and UK as well as further offices, IDS is represented internationally.