IDS Expands Line of USB 3.0 Machine Vision Cameras
v>New LE, LE Board-level, and ML USB 3.0 Cameras Unveiled

WOBURN, MA - IDS Imaging Development Systems is building upon the unprecedented success of its USB 3.0 uEye™ CP series of machine vision cameras by introducing three new models with lightning-fast USB 3.0 technology.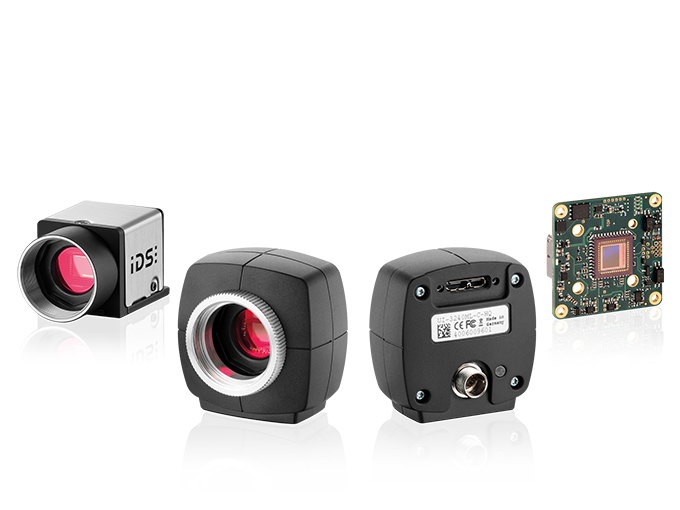 "Whether our customers are looking for a space-saving single-board camera or a lightweight and robust housed industrial camera, our new USB 3.0 models are the right choice for cost-critical applications in automation, robotics, 3D scanning, and medical engineering," said Daniel Seiler, COO of IDS Imaging Development Systems, Inc. "Plus, camera integration and handling is greatly simplified thanks to our interface-independent uEye software suite."
The new and affordable USB 3.0 u Eye cameras from IDS are available in housed and board-level versions, offering a choice of e2v 1.3MP and 2MP as well as Aptina 5MP CMOS sensors to deliver superior video capture in resolutions up to 2560 x 1920 and a maximum full-frame rate of up to 60 fps to satisfy a range of customer needs. The sensors guarantee extra functionality and the highest detail accuracy for light and speed critical environments. e2v's 1.3 Megapixel sensor is also available in a NIR enhanced version. In addition to CCD-quality light sensitivity, the five camera models with e2v sensors also allow switching between various shutter modes to capture sharp images of moving objects or extremely low-noise, high-contrast images. There are also up to four areas of interest (AOI) for checking several features simultaneously or to capture AOIs in a sequence of exposures.
Housed LE Cameras
Housed LE cameras are extremely lightweight and feature a versatile C/CS-Mount lens mount which allows for cost-effective wide-angled lenses. The robust plastic housing with lockable USB 3 connectors makes the cameras suited even for industrial environments.
Board-level LE Cameras
Sharing many of the leading features of the housed LE version, the new board-level USB 3 uEye LE cameras can be quickly integrated thanks to their tiny size, making them the perfect component for embedded systems, medical engineering and instrumentation. Existing IDS customers will appreciate that the USB 3 uEye LE hast the same footprint as the established USB 2 board level series. The seven cameras that make up the board-level LE family also achieve exceptional connectivity through an 8 pin connector with 5V power supply, trigger, flash, 2 GPIOs, and I2C bus for interfacing external devices.
ML Industrial Cameras
Weighing only 41g and measuring a mere 47 x 46 x 28 mm, the USB 3 uEye ML is the perfect industrial camera for space critical applications. It has all the features one would expect from a high-quality industrial camera in a robust plastic housing with lockable connectors. In addition to the USB 3 uEye LE series it includes a Hirose connector for 2 GPIOs, opto-decoupled trigger and flash.
ABOUT IDS
IDS Imaging Development Systems GmbH is a leading manufacturer of digital industrial cameras with USB or GigE interfaces. Boasting more than a decade of experience in the development and sale of USB 2.0 cameras, we are also among the pioneers in the development of digital USB 3.0 industrial cameras today. Our visionary thinking and modular concepts enable our customers to develop innovative and individual applications. Professional machine vision components are developed by us exclusively in Germany, produced in a sustainable way, and sold all over the world.