HXC-1000 "Hercules" Computing Solution
ADLINK Introduces New Intel-Based Edge Computing Solution for Core Networks at LTE North America 2014

Will also sponsor and participate in panel discussion on network optimization during the event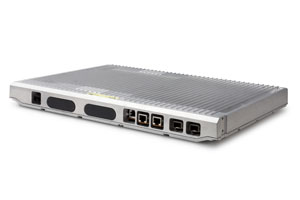 ADLINK Technology, a leading global provider of cloud-based services, intelligent gateways, and embedded building blocks for edge devices that enable the Internet of Things (IoT), will be sponsoring a panel today at LTE North America 2014. ADLINK will also introduce a new rugged, outdoor edge computing solution (codename: Hercules), the latest result of its technological collaboration with Intel.

ADLINK's Hercules is an advanced edge computing solution that enables telecom carriers to reduce back-haul and transmission costs. It also provides smoother and faster delivery for application providers, as well as a faster web browser response experience for end users.

"With its unique embedded power management agent, groundbreaking fanless operation, IP65 design, and powerful network processing optimizations, ADLINK's Hercules provides a strong, welcome addition to any telecom provider looking to save on power and load costs by shifting their networks away from traditional server-center topologies into distributed hardware architectures, " said Yong Luo, General Manager of ADLINK's Embedded Computing Product Segment. "ADLINK is grateful to Intel for its cooperation in developing this first-of-its-kind outdoor server."

Moving processing and data storage away from a centralized location to the edge of the network can improve the performance of online commerce sites and reduce back-haul and transmission costs for ISPs and carriers. ADLINK's edge computing solution delivers choice benefits for IN/SDN architectures, making it an ideal platform for moving high-performance core networking functions to the edge of the network. The rugged solution is engineered to serve as a remote, localized edge station suitable for outdoor environments, with the combination of ADLINK's integrated software and rugged design and the power of Intel® Xeon® processors making it an efficient and effective tool for the distribution and optimization of virtualization technology.

ADLINK is also a proud sponsor of a panel discussion on network optimization: Analyzing the Benefits of Running Network Functions Out of the Cloud, scheduled for 4:00PM on November 20th, the panel will consist of three industry insiders in a discussion on the benefits and hurdles of shifting core network applications to cloud-based intelligent network architectures. Part of this panel discussion will focus on how back-haul, transmission, and power costs may be significantly reduced for ISPs. ADLINK is looking forward to sharing its latest advances in intelligent, software-defined cloud computing.

About ADLINK
ADLINK Technology is enabling the Internet of Things (IoT) with innovative embedded computing solutions for edge devices, intelligent gateways and cloud services. ADLINK's products are application-ready for industrial automation, communications, medical, defense, transportation, and infotainment industries. Our product range includes motherboards, blades, chassis, modules, and systems based on industry standard form factors, as well as an extensive line of test & measurement products and smart touch computers, displays and handhelds that support the global transition to always connected systems. Many products are Extreme Rugged™, supporting extended temperature ranges, shock and vibration.

ADLINK is a Premier Member of the Intel® Internet of Things Solutions Alliance and is active in several standards organizations, including PCI Industrial Computer Manufacturers Group (PICMG), PXI Systems Alliance (PXISA), and Standardization Group for Embedded Technologies (SGeT).

ADLINK is a global company with headquarters in Taiwan and manufacturing in Taiwan and China; R&D and integration in Taiwan, China, the US, and Germany; and an extensive network of worldwide sales and support offices. ADLINK is ISO-9001, ISO-14001, ISO-13485 and TL9000 certified and is publicly traded on the TAIEX Taiwan Stock Exchange (stock code: 6166).