HS35 and OptoPulse EIL580 Series Encoders
rong>Incremental Encoders Provide Options for the Drives Industry

HS35 and OptoPulse EIL580 Series Encoders from Baumer Offer Design Flexibility for Engineers in Drive Applications

Southington, Conn. -- The HS35 series through hollow shaft and OptoPulse EIL580 series solid and hollow shaft incremental encoders from Baumer are ideally suited for applications in drive technology. Due to their precision optical scanning principle, which delivers less than 1 arc minute accuracy, the encoders allow for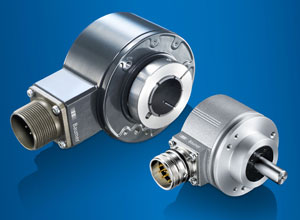 precise control in applications such as speed regulation for web presses and both speed and position control for robotics. The encoders' ShaftLock design and rugged bearings withstand higher shaft run-outs, prolonging encoder life and accuracy. Signal quality precision guarantees consistent operation over the entire temperature range.

The HS35 series is available with industry standard electrical outputs and through hollow shaft diameter from 10 millimeters to 1 inch. MIL-connectors or cable glands allow easy installation and wiring, and various tether kits are available to simplify mounting. Operational speed ratings are possible to 12,000 rpm. The operational temperature range for the HS35 is from -40° F to +212° F, and seal protection ratings are available in IP 54, IP 65, and IP 67.

The OptoPulse EIL580 is available with 6 and 10 millimeter shafts, as well as 8 to 15 millimeter blind and through hollow shaft configurations, all in standard 58 millimeter housing diameter. The OptoPulse operating temperature rating is from -40° F to +185° F. Seal protection ratings of IP 65 and IP 67 are offered, and connection options range from cable gland to M12 connector to M23 connector. Operational speed ratings of up to 6,000 rpm are possible.

For more information on the HS35 series, go to http://www.baumer.com/hs35. To research the OptoPulse EIL580, go to http://www.baumer.com/optopulse.

The Baumer Group is an international leading manufacturer and developer of sensors, encoders, measuring instruments and components for automated image-processing. Baumer combines innovative technology and customer-oriented service into intelligent solutions for factory and process automation and offers a uniquely wide range of related products and technologies. With about 2,500 employees and 36 subsidiaries and in 18 countries, the family-owned company is always close to the customer. Industrial clients in many sectors gain vital advantages and measurable added value from the worldwide consistency of Baumer's high quality standards and its considerable innovative potential.