How to Use DOBOT Robotic Arms in Car Manufacturing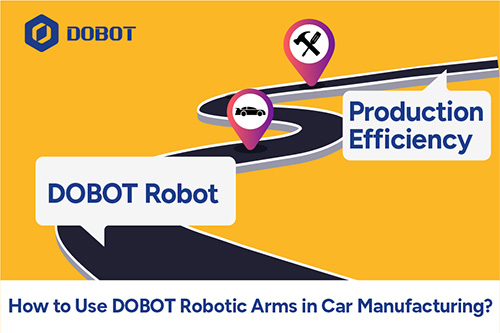 The car manufacturing industry applies a robust use of robots to automate their production lines. Robotic arms have drastically changed how we operate and cover worker responsibilities. Keeping in mind the wide variety of cars, their types, parts, and other elements, we cannot expect car manufacturers to create tons of vehicles per year using manual work. Collaborative robots assist and ease many car manufacturing tasks.
Where can cobots be deployed?
Automotive Applications for Cobots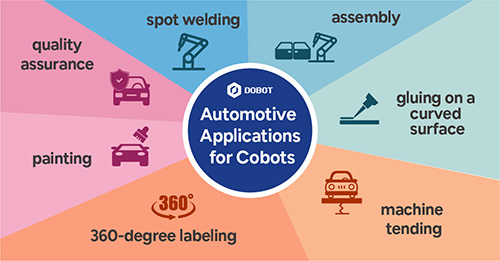 There is a vast reach of robotic arms in car manufacturing.
Industrial robots can be deployed in:
Giant industrial and miniature robots can perform welding tasks by spotting a welded car body panel or welding brackets and mounts.
Automotive manufacturing plants deploy collaborative robots for windshield installation and screw driving as assembly applications.
Cobots can apply coats of paint and spray sealants making no mistake and not being exposed to any risk of toxic inhalation.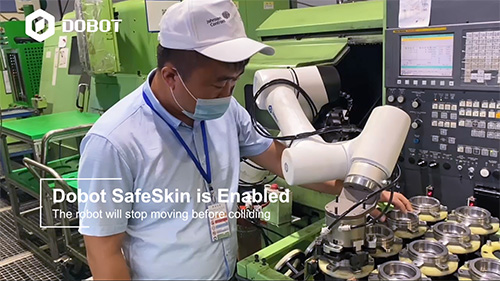 Robots can perform various application tasks, including unloading hot moldings from an injection molding or loading and unloading machines for tending.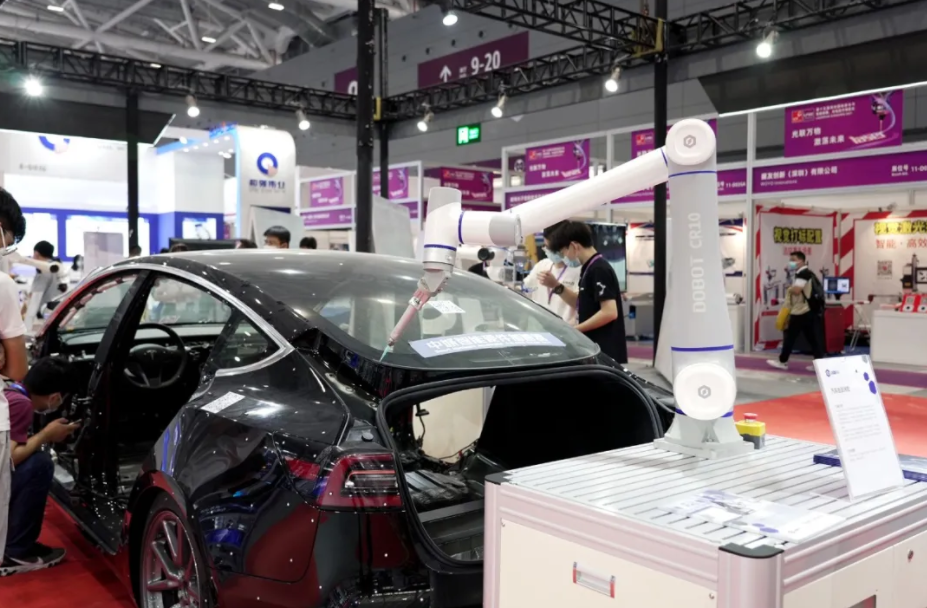 One of the examples of automation in the car industry is labeling. The DOBOT CR5 collaborative robotic arms are equipped with an automatic label feeder and customized grippers. Our cobot can cover multiple responsibilities, from picking up material to wheel pressure curing.
gluing on a curved surface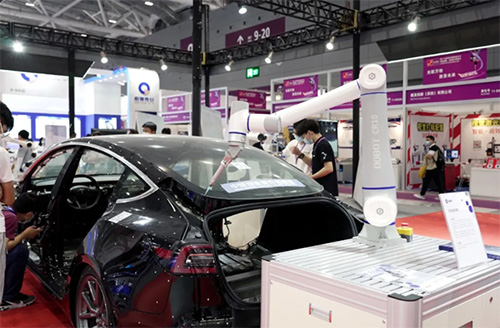 Robots perform sealing and bonding areas of automotive manufacturing. For example, the DOBOT CR series' 6-axis robotic arms offer a significant level of flexibility and multiple choice of arm lengths that can be used in various coating elements.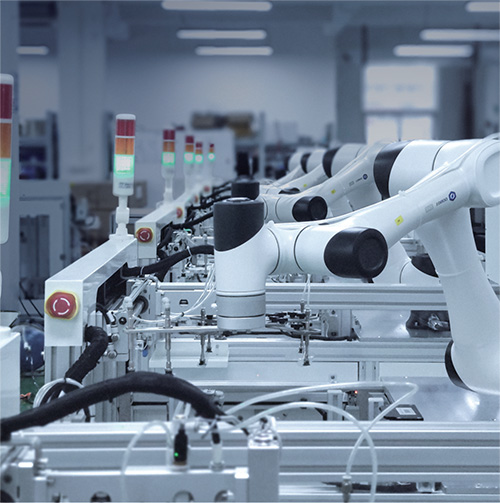 Automobile manufacturers use robots in their production lines because they have a robot vision. They can use cameras to have a clear "vision". For instance, the DOBOT CR series cobots obtain a 3D camera function, increasing defect detection.
Eventually, automated quality assurance can help prevent manufacturing damages and reduce labor costs. Cobots are becoming quality assurance inspectors in the automotive industry.
Cobots on a Rise of Car Manufacturing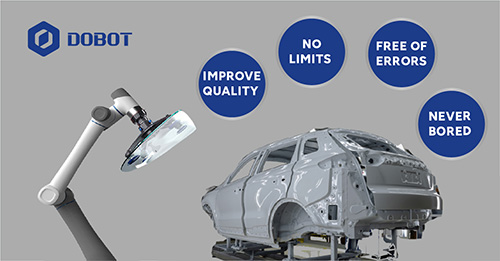 Humans have boundaries of the working process, while cobots are free of errors and limits. Automobile manufacturing is essential for deploying robotic arms in multiple applications, such as machine tending, labeling, painting, assembly, etc. The DOBOT robots spur car plants' production volume and improve quality.