House of Design and KEEN Develop Innovative Robotic Cell to Automate Shoe Manufacturing
The UNEEK Robotic Cell, on display at the Outdoor Retailer show in Salt Lake City, weaves the interlocking cords of the shoe's upper portion
AUBURN HILLS, Mich. – House of Design, LLC, an ABB Robotics Value Provider located in Nampa, Idaho, has collaborated with outdoor and lifestyle footwear company, KEEN, Inc., to develop an innovative robotic cell to address the challenge of automating the manufacturing of its UNEEK shoes. The UNEEK Robotic Cell, which debuts at the Outdoor Retailer Summer Market in Salt Lake City, August 3rd - 6th at the KEEN booth (#32183), features two ABB IRB 120 robots weaving the interlocking cords of the shoe's upper portion. The independent, but engaged cords are the signature feature on the UNEEK footwear franchise, providing an unmatched level of comfort as the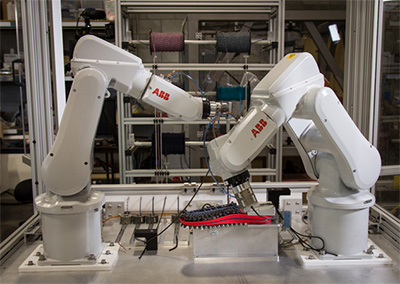 cords naturally conform to the shape of an individual's foot.
The robotic cell can produce a shoe in half the time of the current process, while maintaining the unique construction and weave integrity inherent to the UNEEK brand. After the Outdoor Retailer Summer Market the cell will move to KEEN's Portland, OR headquarters, where it will display to visitors how the company solved the challenge of automating footwear manufacturing, and how it continues to innovate and push new boundaries that disrupt the industry.
"We appreciate the innovative application of robotic automation developed by House of Design and KEEN," said John Bubnikovich, ABB's vice president of sales and marketing, robots and applications. "It is a prime example of the great dexterity of industrial robots, and how they can be used for more intricate, almost custom work, in addition to handling the high volume, repetitious work for which they are mainly known."
The IRB 120 is ABB's smallest ever six-axis, multipurpose industrial robot, weighing just 25 kg (55 lb), with a maximum payload of 3 kg (6.6 lb) and a reach of 580 mm (1.9 ft). It features all the functionality of ABB robots in a much smaller package, helping to reduce the footprint of robotic cells.
KEEN currently has a portfolio of larger ABB robots at its Portland manufacturing facility handling a variety of machine tending and material handling applications. Though the UNEEK Robotic Cell will not go directly on the production line, it is potentially the precursor to further automation at the plant.
"The ability to automate opens up a world of opportunity for the UNEEK footwear franchise, and given the Robot's flexibility and speed, KEEN will continue to explore future applications in what is an exciting next step in the UNEEK platform for fans around the world," said Rory Fuerst, Jr., KEEN's director of innovation.
About ABB
ABB is a leader in power and automation technologies that enable utility and industry customers to improve their performance while lowering environmental impact. The ABB Group of companies operates in around 100 countries and employs about 150,000 people.

About ABB Robotics
ABB Robotics is a leading supplier of industrial robots - also providing robot software, peripheral equipment, modular manufacturing cells and service for tasks such as welding, handling, assembly, painting and finishing, picking, packing, palletizing and machine tending. Key markets include automotive, plastics, metal fabrication, foundry, electronics, machine tools, pharmaceutical and food and beverage industries. A strong solutions focus helps manufacturers improve productivity, product quality and worker safety. ABB has installed more than 250,000 robots worldwide.
All ABB Robotics' products are fully supported by the ABB Robotics' global sales and service organization in 53 countries and over 100 locations.