Hog 86 Encoders
rong>Hog 86 Encoders Deliver Motor/Generator Feedback and Speed/Position Control

Southington, Conn. -- For applications where reliable motor/generator feedback and speed and position control are essential, Baumer has introduced the HOG 86 family of redundant optical incremental encoders.

To withstand the challenging conditions found in heavy vehicle, offshore and wind applications, the IP66-rated encoders feature a die cast housing treated with a coating that delivers C4 protection against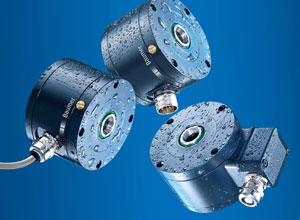 corrosion. The encoders operate reliably in ambient temperatures from -40°C to +100°C. A terminal box version of the encoder features a separate compartment with encapsulated electronics to protect against water and humidity even while the cover of the terminal box is opened for installation.

While the hollow shaft encoder's bearings are protected against inductive shaft currents, optional long-life ceramic hybrid ball bearings provide up to 100,000 hours of longevity. An optional integrated Enhanced Monitoring System or EMS continually monitors the encoder's functionality across the entire speed range and outputs digital and visual LED warnings in the event of a failure. By providing easy and automatic remote failure analysis and simplified encoder analysis, errors can be immediately identified for quick system reboots.

Baumer HOG 86 encoders offer more than 20 sophisticated and flexible connection options for easy installation, including terminal box, M23 connector, cable and fiber optic versions. The terminal box can be rotated 180° to facilitate installation. An optional torque arm with a flexible mounting allows multiple mounting locations to be used on each side of the encoder.

For more information on HOG 86 encoders, contact Baumer at 1-800-937-9336 or [email protected].

The Baumer Group is a leading international manufacturer of sensors and system solutions for factory and process automation. In 2011 the innovative family-owned company employs about 2,500 people worldwide in 36 locations and 18 countries. The long lasting success is built on high customer focus as well as the innovative and diversified product range of the product segments Sensor Solutions, Motion Control, Vision Technologies, Process Instrumentation, and Gluing Systems.