HIROTEC implements Digital Twin with FASTSUITE Edition 2
HIROTEC introduces CENIT's FASTSUITE Edition 2 as digital factory solution at its Japanese headquarters
HiROTEC implemented FASTSUITE as a platform for all steps from cell planning to PLC validation. A first milestone is the digital twin of a production cell for vehicle doors.
HIROTEC Corporation (Hiroshima/Japan) is one of the world's leading car body parts manufacturers. As Tier-1 supplier of automotive OEM, the company is continuously working on improvements in the manufacturing process from design to production ("Full Vertical Approach").
In addition, the company launched an Advanced Engineering Center in 2015 to work with industry and research partners worldwide on tomorrows solutions. The goal for production is "Zero Defects, Zero Delays, Zero Downtime". CENIT paves the way to the Smart Factory with the digital factory solution FASTSUITE Edition 2.
The collaboration started in 2016 when Yoshiaki Higashi, President of CENIT Japan, and his team of experienced engineers conducted a feasibility study for HIROTEC. The result was the placement of an order for our software in 2017.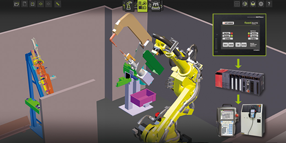 HIROTEC started with the development of a digital twin for a vehicle door production cell. They have been continuing this project with the goal of digitalizing the entire process using 3D simulation. (See " The entire engineering process in one software" below).
Hideharu Aranii, General Manager, Assembly Tool Engineering Department, Tool & Die Division, was responsible for the project on behalf of HIROTEC. He emphasizes the quality of the result-efficient cooperation: "CENIT employees have in-depth knowledge of our production technologies and many years of experience in the industry." His employees have confirmed the user-friendliness of the software. "It is important to us that the software supports our teams in applying their expertise. This is exactly what FASTSUITE Edition 2 does."
For the future project, CENIT's enterprising qualities are also a plus point: "If we as a globally active supplier incorporate further locations, CENIT can accompany us on this path as our partner offers the necessary resources and internationality."
About HIROTEC
HIROTEC supports car manufacturers worldwide with high quality and lean body-in-white closures, exhaust systems and closure manufacturing equipment. The company offers an integrated production system utilizing advanced technology. Founded in 1932, the supplier today has 27 locations in nine countries and around 1,700 employees. In 2016, the company reported a sales volume of EUR 525.5 million (sales volume 68,400,000,000 JPY). Their products and services include the design and manufacture of body doors and exhaust systems for motor vehicles, punching tools, assembly systems and folding systems for body-in-white closures.
Read more on FASTSUITE website.