High temperature resistant vacuum cups (482°F)
Sch

malz, the leader for Vacuum Components and Gripping Systems, presents a new range of high-temperature resistant vacuum cups. The special, silicone-free material HT2 can stand temperatures up to 482° F. The special design of the high temperature resistant vacuum cups allows for process-safe high-speed-handling.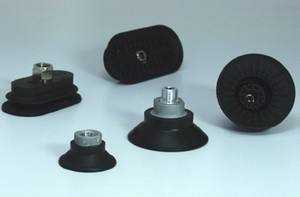 The HT2 vacuum cups are therefore ideal for removal of sheet-metal parts after hot forming. With this new era of vacuum cups the total tooling weight can be reduced significantly by replacing the mechanical gripping system. The new tooling setup with HT2 vacuum cups not only reduces the weight and complexity of the gripping tool, but also boosts productivity: the operational costs slump and the hard-wearing vacuum cup material guarantees a long life.
Schmalz offers a wide range of the new HT2 vacuum cups for many different sizes and shapes of workpieces.
Schmalz is the leading supplier of Vacuum Automation Components as well as Robotic and Gantry style Vacuum Gripping Systems. Schmalz supplies modularly constructed area and layer vacuum grippers for flexible handling of varying material properties, configurations and shapes - such as non-rigid cardboard boxes, plastic film and porous materials. Schmalz grippers can handle varying dimensions and undefined positions. The product range of Vacuum Components includes suction cups in (11) standard materials and cup lines for special industry needs, e.g. Automotive cups or cups for the Packaging industry. The product range also includes vacuum generators, mounting elements and system monitoring devices. Schmalz, founded in 1910 in Germany, is family owned and operated in third generation. Schmalz is one of the few positive-energy companies worldwide and has been rewarded for its sustainability several times. Schmalz is DIN ISO 9001 and DIN ISO 14001 certified for more than 10 years.