High-tech cameras – lightning-fast, ultra-sharp and legendary
rong>maxon drive systems in the communication sector.

In the new edition of "driven", the maxon motor magazine, everything revolves around high-tech cameras: From professional SLR cameras and camera stabilization systems to modern projection devices for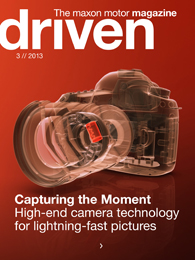 telescopes. All these applications have one thing in common: they all use high-precision drives by maxon motor. The tablet magazine is available free of charge for Apple iOS and Google Android.

In the latest edition 3//2013 of "driven", applications in the field of communication take center stage. For example, the magazine reveals which function the maxon drive systems have in professional SLR cameras or how it is possible to produce top quality films at lofty heights with the aid of brushless maxon flat motors. Glancing at the stars, we examine how artificial stars are created by means of modern projection systems. Our guest author Bruno Leibundgut, Director for Science at the European Southern Observatory (ESO), explains why "dark matter" in space attracts, while "dark energy" drives the universe apart. In the Expertise section, you will learn about how maxon DC motors have developed through the years. Readers may also try their hand at solving a simple drive puzzle and win prizes.

"driven – the maxon motor magazine" is published three times a year, for iPad and Android tablet PCs. The magazine is available as a free download in the Apple App Store and Google Play Store. At the end of each year, highlights from the three tablet issues will be compiled in a print edition. The "Best of 2013" print edition is released on November 19, 2013. Order your personal edition now.

In the new web viewer of the magazine, all editions of "driven" are also available online.