High Speed CMOS Camera DR1-D1312-200-G2-8
Due

to their excellent capabilities of managing high frame rates CMOS cameras are at the fore front of high speed image capturing and image analysis. Until recently CMOS high speed cameras were used as compact camera heads with an internal image buffer or as landed camera heads with a CameraLink full interface and frame grabbers with a large image buffer.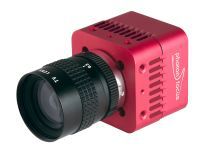 Applications such as motion analysis (e.g. in the area of bionic, sports or biomechanical analysis) and process failure analysis (e.g. burst or fracture of tools, failure of handling systems, breakdown of packaging systems) require frame rates which are increasingly being provided by fast CMOS standard cameras. These are also used in machine vision applications. The preferred camera choice for such applications are standard machine vision cameras with a GigE interface due to their flexibility in long transmission distance. For even faster motion analysis cameras with a double frame rate, being captured with a GigE interface and a combined link aggregation with recording systems are required.

Photonfocus has recognized the need and requirements of these applications. Their double rate (DR) camera technology displays a double bandwidth for data transmission via the standardized GigE Vision interface, common for machine vision applications. The technology is based on the standard software protocol GeniCam. This Photonfocus technology is based on standard bandwidth tools and standard software libraries used for high speed image capturing. Even a multiple camera system set-up can be easily implemented due to the usage of the GigE standard, in contrary to a point-to-point connection as used in Link aggregation solutions. With the GigE standard the data transmission is not getting interrupted.

This technology eliminates the complications of systems using cameras with link aggregation right from the beginning. The user receives frame rates up to 577 fps at VGA resolution and 204 fps at resolution of 960 x 960 pixels from the DR-camera. The important and frequently desired benchmark of 500 fps at VGA resolution and 200 fps at mega pixel resolution are achieved easily.

Once more Photonfocus demonstrates its industry leader position in the area of cutting edge high speed camera systems. The double rate (DR) camera technology is up to 25% faster than conventional CameraLink base cameras and even 100% faster than mainstream cameras with a standard GigE interface.

An additional advantage of the implemented modulation technology is the capability to save unmodified image formats. The storage space for all image sequences is almost half the size of standard solutions. This is made possible thanks to the real picture format saving which enables fast sequence search runs. In image analysis applications NIR markers are often used to enable data capturing. In such instances the high quantum efficiency of the sensor used in the DR1-D1312-200-GB-8 Photonfocus camera is the key to the good image quality. For applications working on higher wave lengths (e.g. in the near infrared area) a specific NIR sensor from Photonfocus can be used in the same camera type.

You can find additional information on the DR1-D1312-200-GB-8 camera on our website. If you prefer contact us also directly with an email to sales@photonfocus.com or visit us at the Vision show in Stuttgart, taking place from November 8 till 11, at our booth number 4C71 in exhibition hall 4!