High-Speed 16 Megapixel Camera Added to SVCam-HR Line
See

feld, Germany - SVS-VISTEK has announced the release of the HR16070 as a new addition to its HR-Series and representing the best of German engineering. Based on the new Truesense Imaging KAI-16070 CCD sensor, the HR16070 is a high-speed, 16 megapixel camera with a 4-tap sensor allowing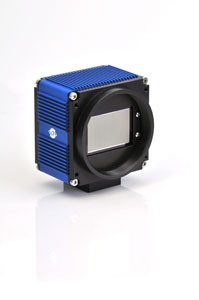 for a frame rate up to 10Hz with superior image quality and fidelity. This sensor achieves a 100-times better smear factor with a 7.4µm² pixel size than the previous 2-tap design, allowing sharp images at very short exposure times while providing an incredibly wide dynamic range.

The compact design of the camera features an M58 x 0.75 thread lens mount and optional F-mount to interface with high-quality lenses. The HR16070 is available with a medium configuration Camera Link interface and a dual-port GigEVision interface.

Additional features include flexible I/Os with the ability to control and drive LED strobe lighting with up to 3 Amps of power directly from the camera and without the need for an external LED control unit. These same outputs can be used to drive servo motors which are driven by pulse width modulated signals. Pixel defect correction, flat-field shading correction, fully automatic, industry-leading tap-balancing, and a logical trigger input round out the main features of this advanced camera.

The SVS-VISTEK HR16070 compliments the other high-resolution models in the SVCam-HR lineup:


HR11002 with 11 megapixel 2-tap sensor at up to 6.1fps in GigE and 10fps in CameraLink
HR16000 with 16 megapixel 2-tap sensor at up to 4.0fps in GigE and 4.9fps in CameraLink
HR16070 with 16 megapixel 4-tap sensor at up to 10fps in GigE and 10fps in CameraLink
HR29050 with 29 megapixel 4-tap sensor at up to 6.2fps in GigE and 6.2fps in CameraLink
The high resolution, best-in-class image quality and high frame rate make the SVCam-HR line an ideal solution for LED/LCD, wafer and PCB inspection, metrology imaging, glass inspection, high-end traffic, surveillance and defense applications, and aerial imaging.



SVS-VISTEK - Camera Manufacturer and Reliable Business Partner

As a designer of digital high-performance cameras and having comprehensive machine vision expertise, SVS-VISTEK is one of Germany's most innovative manufacturers of industrial cameras, a reliable supplier of components for machine vision and a specialist for highly integrated imaging systems and solutions. Founded in 1987 SVS-VISTEK has 25 years of comprehensive expertise in the machine vision market.

Since 1999 the company has been developing and manufacturing its own cameras. To this day 100% of SVS-VISTEK's cameras are designed and manufactured near Munich in Seefeld, Germany. The company's cameras are produced under strict quality control, assembled in clean rooms on-site and tested with state-of-the-art testing technology. Our cameras are more than just superior technology: the products are backed by an organization that is highly efficient, lean and customer-oriented in all of its processes.

SVS-VISTEK offers global sales and support through a world-wide network of highly skilled partners in more than 20 countries. Through close relationships with these especially competent local partners, SVS-VISTEK is able to provide its first-class quality cameras and professional support to demanding customers around the world.

In North America contact SVS-VISTEK Inc. at info-usa@svs-vistek.com or call 540.323.7656.
All other locations contact SVS-VISTEK GmbH at info@svs-vistek.com or call +49 8152 9985 0.