High Sensitivity, Shortwave Infrared (SWIR) Cameras
Goodrich high sensitivity, shortwave infrared (SWIR) cameras meet multiple market requirements

Military, medical and scientific, solar and commercial markets can all benefit from Goodrich shortwave infrared technology

CHARLOTTE, NC – Goodrich ISR Systems' full suite of high resolution, near-infrared (NIR) and shortwave infrared (SWIR) linescan and area cameras have been designed to meet the needs of a many different markets, offering superior image quality.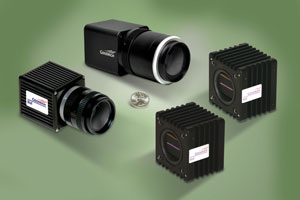 For military and defense applications these cameras offer small size, weight, and power (SWaP) and hardened electronics and housings. For commercial applications, high line-rate linescan cameras are offered supporting high-speed imaging, including solar inspection and machine vision as well as spectral-domain optical coherence tomography (SD-OCT).

The full suite of cameras includes:


GA1280J mil-hardened camera. This is Goodrich's highest resolution SWIR camera for military imaging at 1280x1024 pixels, providing a 15 micron pitch and 60Hz full frame rate. This compact InGaAs camera easily fits on board most unmanned aircraft systems (UAS), handheld, mobile surveillance, and unmanned ground systems.
SULDH2 is Goodrich's SWIR 1024-pixel, high speed line-scan camera. The features include a line-rate of over 91,900 lines per second, and small (3in wide x 3in high x 2.4in long). This cost-effective camera is ideal for spectral-domain optical coherence tomography (SD-OCT) imaging and can be mounted to a spectrometer to provide 'integrate-while-read' snapshot acquisition.
SU640HSX is Goodrich's high sensitivity, mil-hardened SWIR snapshot video imaging camera. This uncooled 640 x 512 pixel resolution video camera with a 25-micron pitch features ruggedization for harsh environments, advanced dynamic range, expanded memory configurations, and a wide operating temperature range from -40 degrees to 70 degrees Celsius. The on-board automatic gain control (AGC), built-in non-uniformity corrections (NUC), and adjustable automatic contrast enhancement make this compact camera ideal for military imaging, covert surveillance, and maritime situational awareness applications.
SU1024LDM, this 1024-pixel, 14 bit SWIR line-scan camera is compact, robust and high resolution, developed for machine vision, solar inspection and sorting applications. Featuring square pixels for inspection of polished silicon, ingots, wafers and hot glass, this camera is ideal for use on continuous-process lines. With convenient mounting points of 4 of its 6 sides it is easy to integrate into new or existing machine vision systems.
The Goodrich ISR Systems team based in Princeton, NJ, has pioneered the design and production of NIR and SWIR cameras and systems using advanced indium gallium arsenide (InGaAs) imaging technology for use across many applications

Goodrich Corporation, a Fortune 500 company, is a global supplier of systems and services to the aerospace and defense industries. With one of the most strategically diversified portfolios of products in the industry, Goodrich serves a global customer base with significant worldwide manufacturing and service facilities.

Goodrich Corporation operates through its divisions and as a parent company for its subsidiaries, one or more of which may be referred to as "Goodrich Corporation" in this press release.

Media Contact:
Bob Jones +1 (609) 520-0610
Julie Mears +44(0) 7747 757115