High-Resolution Signal Acquisition Module for Audio and Vibration Testing
rong>The PCI-9527 combines 24-bit signal acquisition and >100 dB range to provide unparalleled price/performance ratio.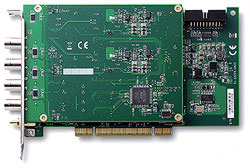 ADLINK Technology, Inc., a leading manufacturer of test and measurement products, announced the release of the PCI-9527, their first 24-bit high-resolution dynamic signal acquisition module specifically designed for audio testing, acoustic measurement, and vibration analysis applications. The PCI-9527 features two 24-bit simultaneous sampling analog input channels with a sampling rate up to 432 KS/s, two analog output channels with an update rate up to 216 KS/s, and one external digital trigger I/O connector.

The PCI-9527 also features a high dynamic input range (>100 dB), flexible input range from ±40 V to ±0.316 V, and analog inputs that support software-configurable features for AC or DC coupling and integrated electronic piezoelectric (IEPE) sensors to interface with an accelerometer sensor and microphone. Combining it all, the PCI-9527 offers the flexibility needed to create a wide variety of automated test systems.

"The PCI-9527 dynamic signal acquisition module offers an excellent price/performance ratio for system integrators involved with audio testing, vibration analysis, acoustic measurements, machine condition monitoring, signal semiconductor testing, dynamic balance testing, and vibration calibration," noted Louis Hsu, Product Manager at ADLINK. "For example, the PCI-9527 can be utilized in production testing for TVs, MP3 players, or other multimedia devices where high-quality sound needs to be guaranteed. The audio digitizer PCI-9527 can also be implemented in monitoring systems for mission-critical machinery, such as turbines in a power plant. Defects in the metal components of such turbines would generate abnormal sounds and vibration under operation, which would require high-dynamic range audio equipment to detect."

The PCI-9527 includes drivers and SDK support for mainstream Windows operating systems as well as third-party application including LabVIEW®. ADLINK also provides Dynamic Signal Assistant APP Utility, an easy-to-use application for system integrators to perform validation and reduce overall design cycle time.

The online tutorial of the PCI-9527 and Dynamic Signal Assistant Live Demo and Introduction is available at http://www.youtube.com/watch?v=kmVWJiCykAY&feature=related.

For more information on the PCI-9527, please visit: http://www.adlinktech.com.

Pricing and Availability

The PCI-9527 is currently available for a list price of $2,950.

About ADLINK

ADLINK Technology provides a wide range of embedded computing products and services to the test & measurement, automation & process control, gaming, communications, medical, network security, and transportation industries. ADLINK products include PCI Express®-based data acquisition and I/O; vision and motion control; and AdvancedTCA®, CompactPCI®, and Computer-on-Modules (COMs) for industrial computing. With the acquisition of Ampro Computers, Inc., ADLINK also provides a wide range of Extreme Rugged and Rugged Single Board Computers, Computer-on-Modules and Systems under the brand name Ampro by ADLINK. ADLINK strives to minimize the total cost of ownership (TCO) of its customers by providing customization and system integration services, maintaining low manufacturing costs, and extending the lifecycle of its products. ADLINK is a global company with headquarters and manufacturing in Taiwan; R&D and integration in Taiwan, China, and the US; and an extensive network of worldwide sales and support offices.

ADLINK is ISO-9001, ISO-14001, ISO-13485, and TL9000 certified, is an Associate Member of the Intel® Embedded Alliance, an Executive Member of PICMG, a Sponsor Member of the PXI Systems Alliance, and a Member of the AXIe Consortium. ADLINK is a publicly traded company listed on the TAIEX Taiwan Stock Exchange (stock code: 6166).