High-resolution C-mount Lenses
Basler Kicks Off its Original Equipment Line with Basler Lenses
High-resolution Basler Lenses are the perfect companion for your Basler ace and dart camera, or any camera with a sensor measuring less than 1/2".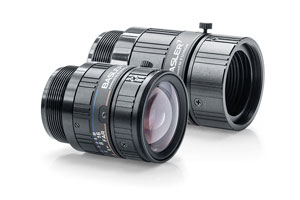 Ahrensburg – Basler is now offering its own C-mount lenses, designed in cooperation with Fujinon. High-resolution Basler Lenses work perfectly on Basler ace and dart cameras with a sensor smaller than 1/2", and are available in six focal lengths. They can also be used on any other camera with similarly sized sensors.

Basler Lenses are optimally suited for sensors with very small pixels, such as the 5 MP sensor from Aptina with a pixel size of just 2.2 µm. This represents a key step in delivering top image quality for popular machine vision applications. The outstanding price/performance ratio is another huge factor, with models starting at €99.

Product Manager Theda Ebeling explains: "Basler Original Equipment has been specially designed to meet our stringent requirements and is optimized to the characteristics of our cameras. All products with the Basler Original Equipment seal are available only from Basler and guarantee top performance when combined with Basler cameras."

Basler offers a three-year warranty for its Basler Lenses, just as it does for its industrial and network cameras.