High Production, Affordable Dual-Robot Finishing Cell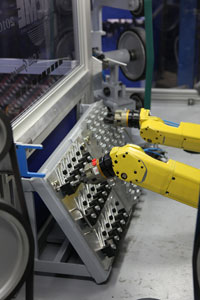 Acme Manufacturing Company has introduced a new high production dual-robotic finishing cell for unattended polishing, grinding, deburring, or buffing of parts weighing up to five lbs. each. Optimized robotic cycles achieved by Acme cells routinely reduce finishing media usage by 80% which significantly reduces cost per part. Process repeatability is another benefit.
Two inverted Fanuc M10iC 10kg compact robots automatically pick up parts from the pallet loading system and bring them to four Acme force-controlled finishing heads equipped for programmable speed and compliance. The dual-robot configuration in the Model TR-4 cell allows production finishing applications of up to 1000 parts per hour, with equipment payback in one year or less.
The robots use end-of-arm pneumatic tooling to grip the parts. The cell includes a part re-grip station (so the robotic arm can present all surfaces to the finishing media), and two exit conveyors for the finished parts. Other features include vision system capability, remote diagnostics, and off-line CAD-to-Path Capability. Quick setup and part changeover are inherent in the Acme design.
A full cell enclosure, with lighting and fork-truck slots, has integrated sound and dust containment to confine airborne polishing and grinding particles to protect the plant environment. All Acme cells are built to RIA and CE specifications.
Acme employs decades of finishing experience, and has developed its "polisher friendly" finishing software and controls to make it simple for users to achieve continuous, uninterrupted production with minimum training and setup.
With over 850 robotic finishing cells operating around the world in 35 countries, Acme has amassed an industry-leading knowledge base related to finishing media, process and automation technology. Users include major medical implant manufacturers and aerospace component producers, as well as leading companies in the plumbing components, builders' hardware, cookware, automotive aftermarket, hydraulic cylinder, bar, tube and other industries.