High Performance Cameras Utilize CoaXPress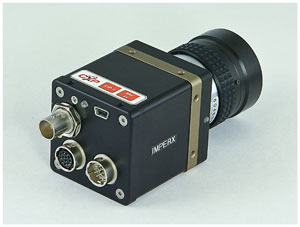 Imperx, a worldwide leader in digital camera technology, demonstrated their new series of high-performance cameras utilizing the CoaXPress interface standard at the Vision Show. The public royalty-free standard, administered by the Japan Industrial Imaging Association (JIIA), supports image data rates up to 6.25 Gbps using a single coaxial cable. Imperx has based its new ICX camera family on the interface, providing resolutions ranging from VGA to 29 mega-pixels.

The CoaXPress interface provides high-speed, point-to-point serial communications for transmitting still images or video from a camera to a host system. In addition, it provides a 20 Mbps uplink for communications and control from host to camera. The interface also offers precise triggering capability, fixed low latency, and can provide up to 13W of 24-volt power to the camera. By using only a single, standard 75-ohm coaxial cable for the connection, the standard avoids many challenges facing other high-performance digital camera interfaces, including cable length limitations, electromagnetic interference, and skew between signal pairs. The protocol supports plug-and-play operation, using a Gen<i>Cam compliant XML file inside the camera to expose all of a camera's features to the host.

The new CoaXPress (CXP) output complements Imperx's popular BobCat series CCD cameras in that itsupports all of the features that make the BobCat the leading choice among military and aerospace users, including built-in image processing, small size, and rugged construction. The cameras also offer multiple trigger modes, hot and defective pixel correction, and microsecond-precision exposure time control. The auto-exposure, -gain, and -iris controls work with up to eight programmable areas of interest for the normalization of image intensity.

These cameras operate the CoaXPress interface at 2.5 Gbps, which allows cable lengths to be greater than 100m between camera and frame-grabber. The cameras are fully PoCXP (power over CoaXPress) compliant so that users only need a single coaxial cable for camera power, control, and video transport, maximizing installation flexibility. Flexibility is also apparent in the choice of resolutions the family makes available. Current ICX models range from 648x488 pixels (VGA) using a 1/3-inch sensor operating at 260 fps to 6600x4400 pixels using a 35mm sensor operating at 2.5 5 fps.

These high performance industrial cameras are designed with an extended operating temperature range of -40°C to +85°C and an Industry leading MTBF of >660,000 hours @ 40°C.

ABOUT IMPERX:
IMPERX designs, develops and manufactures high performance industrial and military grade cameras with resolutions ranging from VGA to 29 megapixels providing either Camera Link®, PoCL®, GigE Vision® or CoaXPress® output. IMPERX cameras offer the most comprehensive feature set in the imaging industry, making them ideal for industrial, medical and military applications. IMPERX also makes powerful yet easy to use desktop and laptop Frame Grabbers for Camera Link®, SD/HD-SDI and Analog standards. Headquartered in Boca Raton, FL, with distributors worldwide, IMPERX uses manufacturing facilities that are certified ISO 9001.