High-End Surge Protection M-LB-5000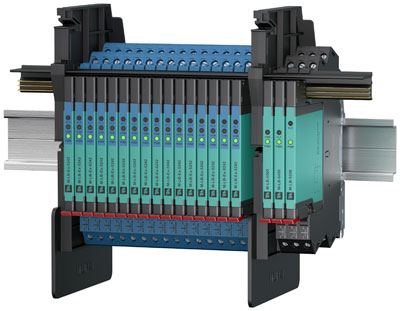 Diagnostics and modularity with an installation width of just 6.2 mm: These features are combined in the new M-LB-5000 surge protection system from Pepperl+Fuchs. By offering these features, the single-channel modules support increased plant availability and optimize total operating costs.
The patented diagnostics of the M-LB-5000 with its intuitive and easy-to-read traffic-light display minimizes testing costs in accordance with EN 62305-3 and allows condition monitoring. The green light on the protection module indicates that there is full protection and sufficient operating reserve. The yellow LED indicates that the protection module has reached 90 % of its lifecycle, but the signal circuit is still protected. The protection module should be replaced when maintenance is next performed. If the indicator is red, the protection module is permanently damaged and protection has been lost. The protection module should be replaced immediately to prevent damage during the next overvoltage condition.
This setup ensures that the protection modules are always replaced at the ideal time. This improves the availability of the surge protection, and therefore of the system as a whole, and at the same time minimizes maintenance costs. The status of the protection modules can be integrated into the control level via the signaling contacts of the function modules and via the Power Rail.
The modular system allows easy commissioning and maintenance using a loop-disconnect function as well as uninterrupted protection module replacement during operation.
When you pull the protection module, the relevant signal circuit remains interconnected via the base module mounted on the DIN mounting rail. The disconnection process does not lead to any signal interruption, meaning that a protection module can be replaced without impairing plant operation.
If the protection module is plugged in at an angle of 180 degrees, the signal circuit will be broken via the integrated isolating function. This simplifies maintenance work as well as loop checks and allows insulation tests to be performed during commissioning or repeated testing.
At 6.2 mm, the small width of the protection modules saves space in the switch cabinet. Disconnect terminal blocks can be avoided: During retrofitting, existing common disconnect terminal blocks can be replaced regardless of space requirements.