High Accuracy Positioning Tables/Nano Precision Stages from Primatics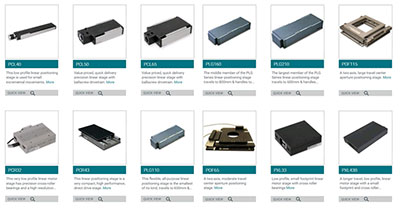 High Accuracy Positioning Tables/Nano Precision Stages, from Primatics, Inc., are used in applications where high accuracy and repeatability and/or smoothness are critical. All sub-assembly components are machined to very tight tolerances in order to achieve the required accuracy and repeatability. Typical precision for these types of stages are measured in the sub-micron or nanometer range. Precision ground acme screws, precision ground ball screws, or brushless linear motors are typically used as the driving mechanisms for these stages. Precision ground cross roller bearings, ultra-high accuracy square rail bearings, or air bearings are mainly used for the linear bearing system. Granite or a precision machined steel plate is commonly used for the table mounting surface. A temperature controlled environment, machine shock absorbers, and high resolution linear encoders are also usually required in order to obtain and maintain the system accuracy and repeatability over the life of the product.
Primatics custom engineered solutions are ideal for assembly & inspection applications, vacuum environments, clean room environments and metrology applications for precision testing and measurement.
Primatics family of Precision Linear Stages include:
Primatics PCL50 and PCL65 Linear Stages offer micron level repeatability and accuracy for 24/7 operation. They integrate a precision ballscrew drive with long lasting recirculating ball linear bearings into a compact package for any application. High reliability makes the PCL50 or PCL65 ideal for any production environment. Many models of the PCL50 and PCL65 are available from stock for your prototype project. These are not reduced performance models; they are the fully specified production ready models. Two week delivery is available for most models. Starting at under $2500 US, precision motion with fast delivery is available at a great value.
Primatics PCR32/43 Series Positioning Stages are the most compact of their linear stages. Ideal for demanding applications such as high precision alignment, attachment and inspection, the PCR stages offer unparalleled flexibility and allows the user to fit a precision stage into their most space restrictive applications. The PCR32/43 delivers exceptionally smooth travel by utilizing anti-cage creep precision cross roller bearings and a center driven brushless linear motor. Since neither the bearings or drivetrain utilize recirculating elements, these stages offer the best of all worlds; smooth, velocity ripple-free motion without cage creep.
Primatics PLG Stages are flexible, all-purpose compact linear positioning stages featuring strokes to 800mm for payloads up to 100 Kg. Available with aluminum or cast iron base, these stages also offer a Class 10 cleanroom option.
Primatics PO Series Stages are two-axis, large travel center aperture positioning stages which feature single or dual linear motors per axis and high resolution linear encoders. These stages are ideally suited for inspection applications.
Primatics PXL Stages are low profile, small footprint linear motor stages with cross roller bearings offering < 2nm incremental motion possible. Models are directly Stackable in XY configurations.
Company Contact
Warren Osak
Tel: 877-737-8698