High accuracy image processing solutions based on artificial intelligence using LabVIEW and PEKAT VISION deep learning.
Connecting your software with LabVIEW and integrating with PEKAT VISION has never been easier! We have prepared a demo, including a VI file, which you can also use in your application, saving you from wasting hours in programming communication in LabVIEW!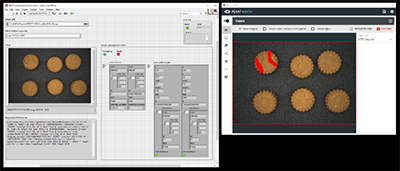 LabVIEW is a systems engineering software used by many engineers nowadays to perform industrial automation, measurement, hardware configuration and other image evaluation tools. Now it is possible to integrate easily with PEKAT VISION. You can simply connect LabVIEW and PEKAT VISION through APIs, running both softwares on the same device, or accessed remotely.
What is PEKAT VISION?
PEKAT VISION is an Artificial Intelligence software for industrial visual inspection and quality assurance based on deep learning. It uses its own proprietary focused-learning algorithm which goes beyond deep-learning, is able to identify small defects and requires only a few images to learn and understand the task.
The main advantages of PEKAT VISION

How can I integrate PEKAT VISION and LabVIEW?
With PEKAT VISION, you can use APIs for communication via HTTP protocol, sending images from LabVIEW to PEKAT VISION, then sending messages with data evaluation in JSON format.

Find a link below to download the VI file, which you will use to import to LabVIEW.
PEKAT VISION JSON format data can be very easily converted in LabVIEW into data structures that can be further used in the wire diagram.
Try it out:
You can test the integration between LabVIEW and PEKAT VISION by simply downloading the LabVIEW project example and contact us for a demo.
What you need to run the example:
LabVIEW 2019 or later
Vision Acquisition Software 19.0
Vision Development Module 2019
PEKAT VISION trained model
Embedded Vision
This content is part of the Embedded Vision curated collection. To learn more about Embedded Vision,
click here
.