Henrik A. Schunk Elected to VDMA Board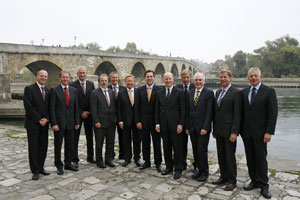 The Managing Director of SCHUNK GmbH & Co. KG, Henrik A. Schunk, was elected to the Board of Directors of the VDMA-Fachverbands Robotik + Automation (the German Association of Machine Builders - Trade Association Robotics and Automation). The newly-elected Board of Directors consists of eleven members altogether (www.vdma.org). They intend to ambitiously continue work and innovation for the robotics industry.

This includes the recently launched campaign "Green Automation." The motto "Engineering Sustainability" points out how robotics, assembly and handling technology, as well as machine vision, can help a product to realization while protecting our resources.

With over 3,000 corporate members and more than 400 dedicated professionals at its head office in Frankfurt/Main, VDMA (German Engineering Federation) is Europe's largest and most important industrial organization for the capital goods industry. VDMA is divided into 37 engineering sub-sectors and provides intersectional forums, committees and workgroups for joint activities. Local associations in Germany's various regions ensure direct contact with members and relevant individuals within the respective state governments.

SCHUNK is a family owned operation and a global player in one. Totaling more than 60 years of experience,
SCHUNK is a leading worldwide manufacturer of toolholding components, workholding systems, and automation components. With more than 1,700 employees worldwide, located in 21 subsidiaries and 5 manufacturing facilities. SCHUNK offers global customer service and technical support.
For more information, please visit www.schunk.com or www.vdma.org.