HEIDENHAIN Touch Probes Selected For Use in Expanded FANUC America Training Centers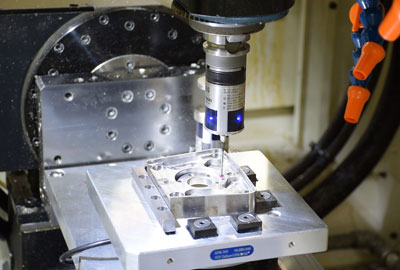 SCHAUMBURG, IL – FANUC America has selected HEIDENHAIN's touch probes for use and training on its popular ROBODRILLs in its recently expanded CNC machining laboratory in Hoffman Estates, IL.
There, FANUC America offers 16 different classroom courses teaching end users about maintenance, operations and programming. HEIDENHAIN's touch probes will be used for hands-on exercises in the FANUC machining labs. HEIDENHAIN probes are well known for their optical trigger mechanism that prevent wear on probes and components therefore guaranteeing accuracy for long periods of time.
At FANUC's machining laboratory, students will have the opportunity to become familiar with these probes and the use of advanced automated probing along with the basics of machining.
"FANUC has used HEIDENHAIN machine tool feedback devices such as scales and rotary encoders with FANUC CNCs for a long time. The probe interface is straightforward and intuitive so the students will learn a lot from their experience," said Paul Webster, engineering manager at FANUC America. "The custom screens that HEIDENHAIN developed for the FANUC Manual Guide i conversational programming software will play a growing part in providing students with the experience of setting up and executing a variety of probing operations."
HEIDENHAIN's TS 460 and TT460, workpiece and tool probe respectively, are triggering touch probes that offer either radio or infrared signals. The TS 460 model also has a patented collision adapter that protects both the probe and machine tool spindle in case of a collision. Now in place at FANUC America, these probes are providing assistance with machine tool setup, measuring and monitoring functions in order to improve dimensional accuracy of finished workpieces. HEIDENHAIN offers advanced application support for the touch probes.
"The cooperation with FANUC has been excellent," explained Chris Weber, HEIDENHAIN's National Sales Manager, Machine Tool Division. "We have worked with them for many years cross-training on our FANUC interface encoders, and are proud that FANUC has chosen to partner with us on probing systems as well."
About FANUC America Corporation
FANUC America Corporation is a subsidiary of FANUC CORPORATION in Japan, and provides industry-leading robotics, CNC systems, and factory automation. FANUC Corporation is the worldwide leading manufacturer in factory automation for CNC systems, robots and production machinery (ROBODRILL, ROBOCUT and ROBOSHOT). Since 1956, FANUC has been a pioneer in the development of computer numerical control equipment in the automation industry.
About HEIDENHAIN Corporation
HEIDENHAIN CORPORATION is the North American subsidiary of DR. JOHANNES HEIDENHAIN GmbH, a leading international manufacturer of precision measurement and control equipment based in Traunreut, Germany. The product line includes linear scales, rotary and angular encoders, digital readouts, digital length gauges, CNC controls, and machine inspection equipment.
Company Contact:
Julian Renz, Product Specialist
Tel: 847-884-4761