HEIDENHAIN Supports Youth Engineering At Battle Bots Competition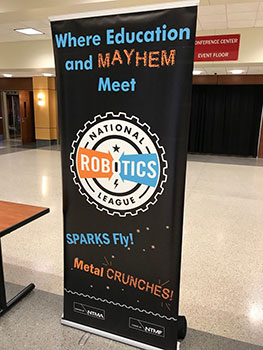 SCHAUMBURG, IL – HEIDENHAIN was proud to sponsor this year's recent National Robotics League (NRL) National Competition where 58 student teams built and battled Bots. Held at California University of Pennsylvania this year on May 17-18, this proved to be another exciting annual robotic STEM event.
Sponsoring the Team PIT area, HEIDENHAIN representatives also assisted with the pre-evaluation of teams who presented their projects and documentation. HEIDENHAIN's Gisbert Ledvon said: "We believe it is so important to support our country's youth who are involved with engineering and manufacturing. It is quite impressive to watch their intelligence and machine skills put to use to create ultimate robots that dole out damage yet withstand destruction from opponents."
Weighing 15 pounds each, the remote-controlled Bots used a variety of weapons and tactical actions to battle in a high-tech arena protected by steel and bulletproof polycarbonate plastic. Operating in a real-world technical education environment, participating students are exposed to future career paths possibly not considered otherwise.
About HEIDENHAIN
DR. JOHANNES HEIDENHAIN GmbH, headquartered in Traunreut, Germany, develops and supports motion control feedback solutions for the machine tool, semiconductor, electronics assembly and test, metrology, automation, medical, energy, biotechnology and other global markets. HEIDENHAIN employs approximately 6,000 people worldwide in its core business activities. The North American subsidiary is HEIDENHAIN CORPORATION, headquartered in Schaumburg, IL, and San Jose, CA, and has been serving the U.S. industry for over 50 years. Here nine company brands are represented.