HEIDENHAIN is Proud to Support University of Michigan's Hyperloop Team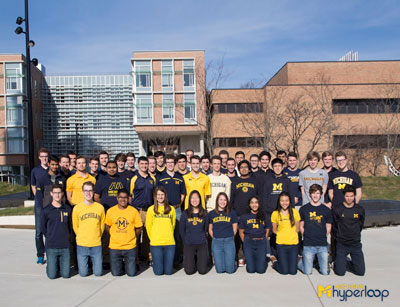 SCHAUMBURG, IL – HEIDENHAIN CORPORATION is proud to support the University of Michigan's Hyperloop team with a sponsorship, as well as donation of motion control feedback for its high-speed pod. The Michigan Hyperloop team is one of the 20 to make it to the next stage of competition based on Elon Musk's vision of future ground transportation.
Its goal is to race along the "Hypertube", a mile-long partial-vacuum tube in place at SpaceX's Hawthorne, CA, campus where Musk's vision is being researched and designed. In Musk's 2013 ground transportation paper, pods of people and cargo travel between cities at transonic speeds in a network of low-pressure tubes, while self-driving electric cars transport goods from Hyperloop stations to their final destinations around the country.
At the Hyperloop competition at SpaceX this July, its third phase called "Competition III" will take place. In order to win, the pod must accelerate to a speed faster than all of its competitors before fully braking in the short distance provided by the track.
To support these efforts, HEIDENHAIN CORPORATION in North America has provided funds to the Michigan team at the Wolverine level, as well as donated four compact ERO rotary encoders designed for high accuracy and reliability in servo drives.
"HEIDENHAIN's encoders for motion control promise to provide the utmost in motor feedback," said Jonathan Dougherty, HEIDENHAIN Product Specialist, Automation Division, "and we are proud to support these forward-thinking young engineers with tools to enable our future. We wish them the best of luck!"
Michigan's Hyperloop team credits their success as a truly collaborative effort with a team that has grown to fifty-plus dedicated members. Team Media Director Emanuel Papageorgiou (BFA '19) adds "It's great to see how many freshmen are actively involved on our team this year. Seeing how many fresh faces took the lead to complete assignments and parts before their deadline, even if they weren't assigned to them, has been really refreshing and provides our members with invaluable hands-on experience."

About HEIDENHAIN
Dr. Johannes HEIDENHAIN GmbH, headquartered in Traunreut, Germany, develops and supports motion control feedback solutions for the machine tool, semiconductor, electronics assembly and test, metrology, automation, medical, energy, biotechnology and other global markets. HEIDENHAIN employs approximately 6,000 people worldwide in its core business activities. The North American subsidiary is HEIDENHAIN CORPORATION, headquartered in Schaumburg, IL, and San Jose, CA, and has been serving the U.S. industry for over 50 years. www.heidenhain.us