Heavy Duty Encoders for the Most Severe Environmental Conditions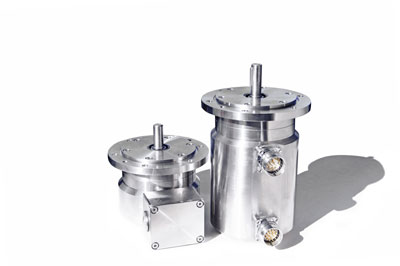 Hamilton, New Jersey - POSITAL's heavy-duty IXARC incremental and absolute rotary encoders are built to stand up to extreme environmental conditions. Based on a housing design with a 25-year track record of surviving the toughest conditions, these devices are suitable for marine vessels, off-shore facilities, mines, cranes, wind turbines and other challenging locations.
These sensors feature extra rugged impact-resistant Type 316L stainless-steel or aluminum housings with seals rated to IP67. Other heavy-duty features include bearings that can stand up to high mechanical shaft loads (up to 250 N axial, 350 N radial) and the ability to stand up to high shock and vibration impact (200 g and 20 g respectively). A special shaft-lock mechanism protects the internal components of the encoder from damage due to extreme thrust loads on the shaft. An optional mechanical overspeed switch can provide an additional level of safety for equipment and operators by sending a warning signal to a motor control if the rotational speed of the shaft exceeds a pre-set limit. The operating temperature range for the heavy-duty IXARC encoders is -40° to 80° Celsius.
Like other POSITAL products, the heavy-duty IXARC encoders are available in a wide variety of configurations. Incremental versions have resolutions (pulses per revolution) of up to 2500 PPR, while absolute versions are available with 16-bit resolution (.005°). Multi-turn variants of the absolute encoders have measurement ranges as high as 16,384 revolutions (14 bit). Other resolutions are also available for both incremental and absolute encoders. Incremental variants are available with Push-Pull (HTL) or RS422 (TTL) communications interfaces, while absolute models can be provided with either CANopen or SSI interfaces. Dual-function models are available that provide both incremental and absolute outputs.
Christian Fell, head of POSITAL's North American operations comments: "At POSITAL, we understand that our customers can encounter extreme conditions with special requirements. Our small-batch approach to manufacturing is well suited to producing customized mechanical and electronic solutions in a cost-effective and timely manner."
POSITAL IXARC encoders are available with rapid delivery anywhere in the world. Lead times for most configurations are less than 5 working days.
About FRABA and POSITAL
POSITAL is a supplier of advanced industrial position sensors used in a wide variety of motion control and safety systems. The company is also an innovator in product design and manufacturing processes and a pioneer of Industry 4.0 (Industrial Internet of Things/IIoT), offering customers the benefits of built-to-order products combined with the price advantages of mass-production. POSITAL is a member of the international FRABA group, whose history dates back to 1918, when its predecessor, Franz Baumgartner elektrische Apparate GmbH, was established in Cologne, Germany to manufacture relays. Since then, the company has played a trendsetting role in the development of rotary encoders, inclinometers and other sensor products. POSITAL has a global reach with subsidiaries in Europe, North America and Asia – and sales and distribution partners around the world.